Police Scotland proposes reducing number of control rooms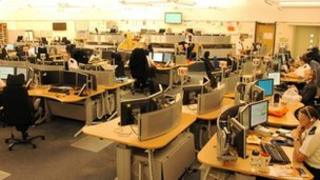 Police Scotland has proposed reducing the number of control rooms it operates across the country.
The force wants to close its control rooms in Aberdeen, Stirling, Dumfries, Glenrothes and Pitt Street in Glasgow.
But facilities at Govan, Motherwell, Inverness, Dundee and Bilston Glen, near Edinburgh, would be retained.
Control rooms currently employ 1,495 police officers and civilians. The force has said there would be no compulsory redundancies.
Police Scotland's 10 control rooms and nine service centres are spread across 11 sites, including two in Aberdeen.
The control rooms deal with emergency 999 calls, as well as calls to the non-emergency 101 number.
Voluntary redundancy
The force has estimated that the changes, to be introduced in stages over the next two years, would save £46.62m and £73.68m by 2026.
Full details have been submitted to the Scottish Police Authority ahead of a meeting next week.
The report said that the "release of between 155 and 212 staff posts is projected", with affected staff being offered the chance to relocate to one of the retained sites.
However, it acknowledged that this would "clearly be more practicable for some staff in some areas than in others", and said staff would also be offered early retirement or voluntary redundancy, or redeployment to other roles with Police Scotland.
The report said there are currently 325 notes of interest in voluntary redundancy or early retirement from staff working within the Contact, Command and Control division.
In a letter to North East MSP Richard Baker, Assistant Chief Constable Mike McCormick said the proposals would enhance the force's ability to respond to complex and large-scale incidents.
'High costs'
He said that a review of how 999 and 101 calls were handled showed having fewer but larger sites, with enhanced IT systems, would bring the most significant improvements.
ACC McCormick said: "Moving to larger centres will enhance our capability to respond to complex and large-scale incidents with increased availability of staff on site, better technology and easier and faster ways to share information."
The proposal set out plans to close Dumfries in April 2014, Stirling in December 2014, Glenrothes in March 2015, Pitt Street, Glasgow, in March 2015 and Aberdeen in December 2015.
The restructuring would see Motherwell and Govan form a West Area Control centre, with Bilston Glen having responsibility for the East Command Area and Dundee the North Area Command.
A National Virtual Service Centre will be split between Govan, Motherwell and Bilston Glen.
Inverness would lose its police control room but will instead become the new hub for the command and control of major incidents and national events anywhere in the country, equipped with new communications systems.
'Local services'
It will also become the base for the police national computer and the criminal history database.
Highland Council leader Drew Hendry said the proposals would see Inverness gain up to 50 new jobs.
Mr Hendry said: "If this is confirmed, it will be great news, with the prospect of more high quality jobs for the area.
"I would like to think our strong representations to the Scottish government over the future of police and fire control centres has contributed significantly to this outcome. The decision also recognises the expertise we have in the Highlands in this important area of work."
But Mr Baker, a Labour MSP, said the plan to close both Aberdeen sites was a "slap in the face" for those who worked there.
A decision is also imminent on the future of the fire control room in the city.
Mr Baker said: "Ministers assured us local services would be protected in their plans for national police and fire services, but this has certainly not proved to be the case in the north east, where our area has been targeted for closures.
"I am now calling on (Justice Secretary) Kenny MacAskill to meet urgently with the members of both boards and for a complete rethink of the current approach.
"Otherwise the Scottish government will increasingly be seen as simply withdrawing from the North East, despite our role as the economic driver for Scotland."
The Scottish government said discussions were taking place to further develop Police Scotland's National Energy Industry Liaison Unit in Aberdeen.
A spokesman said this would create a centre for excellence for working with the oil and gas industry to co-ordinate and manage events and incidents in Aberdeen, the north east and the North Sea.
Scottish Conservative justice spokeswoman Margaret Mitchell said the closure of so many control rooms was "never part of the plan" for Police Scotland, which replaced Scotland's eight regional forces last April.
And Scottish Lib Dem justice spokeswoman Alison McInnes accused the justice secretary of being "happy to stand idly by, while highly regarded local emergency police and fire services are dismantled."
'Local knowledge'
Unison, the union which represents most civilian staff in police control rooms, said the proposal could mean 300 people losing their jobs.
The union's regional officer, Gerry Crawley, said: "These closures are not about making our communities safer. They are budget driven cuts. Scottish government is cutting £139m from police budgets between now and 2017 and £1bn over 12 years.
"Closing these control centres puts 300 jobs at risk, we are concerned that 999 and 101 services will be less responsive and local communities having lost police stations across the country will see even more local cuts.
"Police Scotland will lose a lot of local knowledge".
Meanwhile, the Scottish Fire and Rescue Service has also published plans to rationalise its control rooms.
Board members will be asked next week to vote on proposals to retain Tollcross in Edinburgh and either Dundee or Aberdeen.
'No impact'
It has already been decided that the control room at Johnstone in Renfrewshire will remain open. The Fire Brigades Union said it would try to persuade members of the Scottish Fire and Rescue Service authority to retain more control rooms.
The Scottish government said the final decisions on police and fire control rooms would be made by the Scottish Police Authority and the Scottish Fire and Rescue Board, based on detailed business cases.
A spokesman said: "Reconfiguring the work of control centres will improve the way emergency services respond to calls and incidents, reduce duplication and ensure resources are better directed to the frontline.
"The geographical location of control rooms has no impact on the service members of the public in local communities receive - the professional knowledge of control room staff supported by sophisticated systems and technology remain, ensuring that the high level of service continues."
The spokesman added that the proposals would see a spread of specialist services and regional headquarters across the country.