Supreme Court challenge on naming child's attacker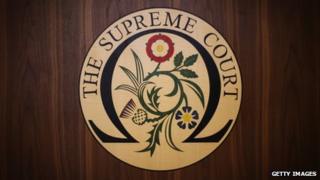 The Supreme Court has reserved a ruling on whether the media can name a man jailed for gross indecency with a child.
The BBC launched the challenge after journalists were barred from publishing the name of the man.
He was deported abroad after serving his prison sentence.
Lawyers acting for the BBC asked Supreme Court justices in London to decide whether a Scottish court took the "correct approach".
Reporters were barred from naming the man or publishing his photograph.
The ban was imposed - under provisions of the 1981 Contempt of Court Act - after the man said he could be at risk of "life-threatening" violence when he returned home.
The BBC case was outlined in written submissions.
The court was told the man had been given permission to stay in in the UK after marrying a British woman.
He was later convicted of indecent assault on a woman and gross indecency with a child, jailed and deported after making unsuccessful attempts to be allowed to stay.
Justices reserved a ruling after analysing legal argument at a two-day hearing.