Scottish independence: Speakers clash on Faslane future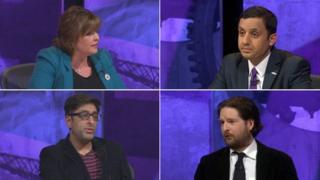 Workers at the UK's main nuclear submarine base could help keep Scotland an "engineering powerhouse" under independence, it has been claimed.
Scottish cabinet member Fiona Hyslop said Faslane would be kept in the event of a "Yes" vote in the referendum.
The Scottish government wants to remove Trident nuclear weapons from the Clyde base, if independence happened.
Deputy Scottish Labour leader Anas Sarwar told a BBC TV debate Ms Hyslop's comments were a change of position.
On 18 September, voters in Scotland will be asked the yes/no question: "Should Scotland be an independent country?"
The Scottish government's white paper blueprint for independence states that Faslane would make the transition from the home of the UK's nuclear deterrent to a conventional naval base and joint headquarters of a new Scottish defence force.
Speaking during the programme, from Greenock, Ms Hyslop, who is Scotland's culture secretary, added: "In terms of jobs, in terms of the replacement of jobs, diversification, there are plans in place that can make sure that Faslane is retained for some matters and that their employment is provided and that is a very important point, and we are perfectly capable of making sure that happens.
"I think that many of the trade unions, for example, have a very effective plan in place as to how we would use the engineering capacity of those that are there and particularly to make sure that Scotland remains and can be developed as a powerhouse in terms of engineering."
Mr Sarwar, who also appeared on the programme, responded: "Fiona you've changed your position, not because you've changed your mind but because you want to win people's votes."
The Scottish Labour MP claimed the Trident issue went to the heart of the "incoherence" of the Scottish government's case for independence, adding that the SNP, as a party, had changed its stance against membership of the Nato nuclear alliance in favour of joining up under Scottish independence.
He went on: "Nuclear weapons are bad, they're wrong - it doesn't make independence right. We've heard about Iraq. Iraq was wrong, it was a mistake - it doesn't make independence right.
"Let's have a debate, and argument based about what best for people here and that's making sure we keep the safety and security as part of the UK, but more importantly move onto a debate about what's best for people in Scotland and tackle what are the real issues like the cost of living crisis, youth unemployment, and making sure every pensioner has dignity in retirement.
"Let's talk about the kind of Scotland and the type of society that we want to bring up our children in, and lets not talk about trivial issues like we see from the Nationalists."
Ms Hyslop said that, under independence, Scotland would be the same as the 25 Nato member states which did not have nuclear weapons.
Actor Sanjeev Kohli, who also took part in the programme, said of Trident weapons: "I think they were landed on our doorstep and they did make us a target for attack, and I would sooner see Scotland rid of all nuclear weapons and the money spent on better things, so that's probably my reaction as a human being and a father."
Fourth panel member, journalist Alex Massie, described the Trident debate as a "non-issue", adding: "That idea that anyone would base your vote upon independence in the referendum on it strikes me as being banal, trivial and tedious."