'Bedroom tax' help given to 45,000 in Scotland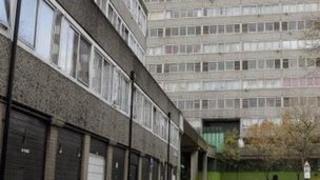 More than 45,000 households in Scotland have received special financial help from councils since changes to housing benefit were made in April.
The benefit changes, dubbed the bedroom tax by opponents, meant some tenants lost money because they were said to be in a house larger than they needed.
The cash for these "discretionary housing payments" comes from both the UK and Scottish governments.
About 80,000 households in Scotland were affected by the changes.
Some councils said people who might be entitled had not applied and had built up arrears unnecessarily.
The Discretionary Housing Payments (DHPs) are the responsibility of the UK government's Department of Work and Pensions.
They are made by local authorities to housing benefit claimants who qualify for support.
Vulnerable people
According to the Scottish government, more than £15m was paid out between April and November 2013.
The amount paid out was almost four times higher than the DHPs paid in 2012/13, when just under £4m was claimed.
A spokeswoman for the Department of Work and Pensions said: "We increased the discretionary housing payment budget for Scotland from just over £4m in 2012/13 to over £13m in 2013/14 precisely because we knew some vulnerable people would need extra help as our vital reforms fix the benefits system.
"It's simply not affordable to pay housing benefit for people to have spare rooms and our reforms in the social sector mean families receive help for the number of bedrooms they need, and these are exactly the same rules as in the private sector."
The Scottish government said it had contributed an extra £20m to the DHP fund in 2013/14.
Deputy First Minister Nicola Sturgeon said: "That money has enabled councils to top up their Discretionary Housing Payments to the maximum amount that Westminster legislation allows - and help hard-pressed households across Scotland.
"We are also providing a further £20m for next year so that we can continue this vital help."
Labour's social justice spokeswoman Jackie Baillie said: "The easiest way to mitigate the effects of bedroom tax would be for the SNP government to back my Bedroom Tax Bill and provide the £50m needed to cover the full cost of the bedroom tax."
Ms Baillie wants to bring forward legislation at Holyrood to protect tenants from evictions caused by rent arrears as a result of the housing benefit changes.