School children join Commonwealth Class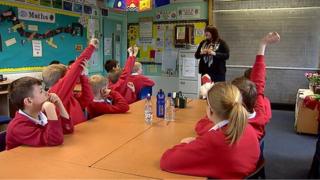 With a third of the world's population living in Commonwealth countries, a special project has been set up to bring school children together to discuss the issues that affect their communities.
At Bonnybridge Primary near Falkirk, P6/7 pupils have spent the morning discussing 'homelessness'.
They have been watching a short film about 400m runner Joel Hodgson.
The 26-year-old is hoping to compete for Belize in the Commonwealth Games this summer.
Joel was raised in Dunbartonshire after being adopted but he ended up homeless and sleeping rough with his girlfriend in London for a short time in 2009.
"I would say the most important thing to us was that we were safe, you don't really worry too much at the time about being cold, it's mainly safety," Joel says.
The school children, aged between 7 and 14, are taking part in 'Commonwealth Class'.
It is an initiative run by the BBC, British Council and the Commonwealth Secretariat.
Every fortnight in the lead up to the Commonwealth Games in Glasgow in July, 700 schools from the 70 nations and territories of the Commonwealth have the opportunity to discuss issues that affect local communities.
After watching the film, classes post their comments online for a live debate.
One comment from Bonnybridge is causing a bit of a stir.
The school posted: "Some people might not be homeless and beg for money when they don't need to."
There have been responses from Sri Lanka, India, Malaysia and Nigeria.
Class teacher, Michelle Cairns says the debates have taught the children to work together and to understand the different issues that affect Commonwealth countries.
She says: "It gives them more of a real life context for learning to learn about tolerance and to learn about working together."
At Bonnybridge primary the pupils have also arranged to connect via webcam to SAI International School in India.
Despite a poor connection, 10-year-old Iona asked her contemporaries 5,000 miles away what they were looking forward to at the Commonwealth Games.
The reply: "I would love to see Clyde, the thistle man, in the Commonwealth Games 2014"
"I am anxiously waiting to watch the inaugural ceremony and the various spectacular performances."
The debates are held online every fortnight and there are still opportunities for schools to sign up.
The organisers are also running a competition looking for three schools, one in the UK and two from other Commonwealth countries to make a film with the help of a film-maker that best reflects Commonwealth values and shares what it means to be a global citizen.