Killing actress Sofie Grabol stars in James plays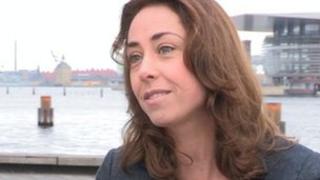 Three new plays about 15th Century Scottish kings are to form the centrepiece of the National Theatre of Scotland's new programme.
The plays about James I, II and III of Scotland, by acclaimed playwright Rona Munro, are to be debuted at this year's Edinburgh International Festival.
They will then transfer to the National Theatre in London in September.
The cast includes Blythe Duff (Taggart and Ciara), Sofie Grabol (The Killing) and James McArdle (Love and Marriage).
Danish actor Grabol, who starred as Detective Sarah Lund in the popular Scandinavian crime thriller The Killing, will join the ensemble cast of 20 actors and star as Queen Margaret of Denmark, the wife of James III, in her first stage role in English.
Scottish writer Munro said she wanted to present "accessible, popular culture versions of our medieval history".
The new cycle of history plays, which will be directed by Laurie Sansom, are an unprecedented co-production by the National Theatre of Scotland, Edinburgh International Festival and the National Theatre of Great Britain.
Munro, whose previous work includes the screenplay of Ken Loach's Ladybird, Ladybird and The Last Witch at the Edinburgh International Festival, said most people had very little knowledge of these kings and the events of the time.
She said her ambition was that audiences would come out with the same "fevered enthusiasm for Scots history" that she had.
Munro said: "I want people to experience them as I imagine them, not as something remote happening to people in odd costumes talking in inaccessible 'history speak' but as visceral, epic stories of people who thought and felt as we do.
"These loves, deaths, friendships and betrayals inform our present."
Laurie Sansom, artistic director of the National Theatre of Scotland, said the plays were "daring, passionate and offer a tumultuous ride through Scottish 15th Century history".
The full line-up for August's Edinburgh International Festival will be unveiled on 18 March.
Booking dates for the run at the Olivier Theatre in London from September to October are to be announced later.
The National Theatre of Scotland also announced details of other projects over the next year.
Dear Scotland will invite 20 of the country's most celebrated writers to send a living postcard from someone featured in the Scottish National Portrait gallery.
The works will be performed by actors in the gallery space between 24 April and 3 May.
David Greig and David MacLennan will co-curate The Great Yes, No, Don't Know, Five Minute Theatre Show, as professional, amateur and first-time theatre makers are invited to make and perform a short piece inspired by the theme of "Independence".
It will be live streamed to a global audience over 24 hours in June.
Later in the year, Graham McLaren's adaptation of Joe Corrie's 1926 classic In Time o' Strife will begin a Scottish tour.