Mikaeel Kular: Mother Rosdeep Kular appears in court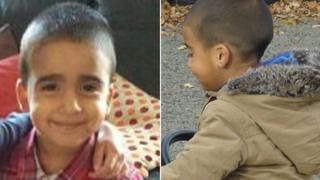 The mother of three-year-old Mikaeel Kular has appeared in court in connection with his death.
Rosdeep Kular, 33, appeared in private at Edinburgh Sheriff Court.
She was detained by police investigating her son's disappearance on Friday night before being formally charged on Saturday.
Mikaeel had been reported missing from his Edinburgh home on Thursday morning, prompting a major search.
The three-year-old's body was found about 20 miles away in Kirkcaldy, Fife, late on Friday.
It was later removed from woodland behind a property in the town's Dunvegan Avenue, and taken away by ambulance.
A house in the street was searched, along with an area of woodland to the rear and side of the property.
Forensic teams have also been carrying out a search around the bungalow.
Ms Kular and her five children had previously lived at the address. A neighbour told the BBC that Mikaeel and his twin sister were born while the family was living there.
Mikaeel's mother had told police she put her son to bed in their home in Ferry Gait Crescent, Edinburgh, at about 21:00 on Wednesday.
Her son was not in the flat when the family woke at 07:15 the next morning, she said.
More than 200 volunteers from the community joined the emergency services in a huge search operation for the young boy.
Hundreds of people gathered at Muirhouse St Andrew's Church in Edinburgh on Saturday evening for a service in Mikaeel's memory.
Many also left flowers and soft toys and lit candles outside his home in Edinburgh.
On Sunday, the head teacher at Flora Stevenson Primary School, where Mikaeel had been a nursery pupil, assured parents that children would be given additional support when they returned on Monday morning.
Irene Brennan said staff were being given advice by the council's psychological services team, and senior educational officers would attend the school to provide additional help.