Mikaeel Kular: Two men arrested over racist online comments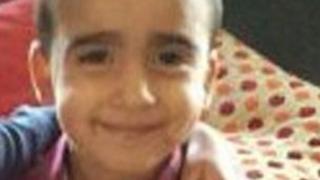 Two men have been arrested after racist comments about the disappearance of three-year-old Mikaeel Kular were posted on Twitter and Facebook.
Police said the men, aged 19 and 26, had been arrested, questioned and released on bail.
The tweets were brought to the attention of Police Scotland by members of the public in Edinburgh.
Police Scotland officers liaised with Hampshire and Derbyshire forces to identify the suspects.
On Saturday, Police Scotland said they were investigating another offensive tweet relating to the case which had originated in the Manchester area.
Northamptonshire Police also said they were investigating an offensive Facebook post published over the weekend in relation to the boy's death.
Ch Supt Mark Williams, Police Scotland's divisional commander for Edinburgh, said: "Any reports of racist, offensive or abusive comments made online will be thoroughly investigated and those responsible will be brought to justice.
"If you commit an offence, we will investigate it and you will be prosecuted."