Scottish economy: Survey says signs of growth and activity 'best for many years'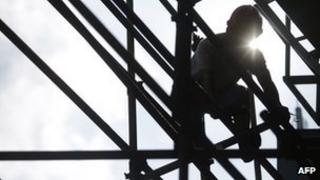 Signs of economic growth and economic activity in Scotland are at their highest levels for many years, a survey of 230 firms has suggested.
The Scottish Chambers of Commerce (SCC) said its survey for the fourth quarter of 2013 indicated the worst of the recession may be over.
However, it warned the recovery remained fragile.
Action may be needed to sustain the recovery, including improving access to finance, it said.
On Wednesday, figures released by the Scottish government suggested the Scottish economy grew by 0.7% in the third quarter of last year.
It was the sixth consecutive quarter of growth north of the border - although slightly lower than the UK as a whole.
SCC's latest business survey, which was conducted in conjunction with the University of Strathclyde's Fraser of Allander Institute, said the outlook remained positive across the board.
It found all sectors have more confidence than a year ago, particularly construction and tourism.
And it said manufacturing orders from within the UK had strengthened, despite weaker trends in export orders.
Garry Clark, head of policy and public affairs at Scottish Chambers of Commerce said: "This survey contains the most positive signs of growth and business activity that we have seen for many years.
"The good news is that businesses across a range of sectors are more confident at the start of 2014 than they were a year ago and the construction sector, in particular, has recovered dramatically after many years of decline."
But he said: "One area of potential concern is the low cashflow that some manufacturers are reporting.
"This makes it even more important that businesses have access to finance in order to fund investment for growth.
Wage growth
"This is particularly true for small and medium businesses, since investment levels will require to grow if the recovery is to become more broadly based and sustainable.
"There is a lot to be optimistic about in the Scottish economy in 2014. However, government must ensure that businesses feel confident to invest and that will mean continuing to prioritise access to finance and also committing to future mitigation of fixed costs such as business rates."
Employment trends were said to be mixed across the sectors, although wage growth appeared to be picking up.
Mr Clark said this offered some hope that the consumer led recovery could be sustained "until investment levels begin to increase".
He said tourism optimism was at an eight year high.
"With iconic events such as the Ryder Cup, Commonwealth Games and MTV Europe Music Awards coming to Scotland this year, there is every opportunity to succeed and to ensure that the legacy is fully realised," he added.