Scottish independence: Experts say separate coronation may be necessary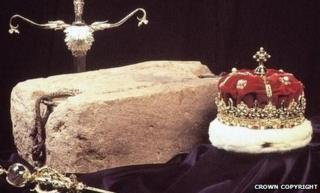 Two leading academics have said future monarchs may need to have a separate coronation in an independent Scotland.
Dr Karin Bowie and Dr Clare Jackson believe examples from before the Act of Union in 1707 indicate that a separate Scottish ceremony may be necessary.
The Church of Scotland has already called for separate English and Scottish ceremonies, post "yes".
The Scottish government said any future decision would be made "alongside the royal household".
If Scotland becomes independent, the Queen would remain Head of State. However, the country's parliament would become fully independent of the UK parliament.
The historical scenario this would most resemble would be from 1603 to 1707, when Scotland and England shared monarchs but had separate parliaments.
During this time, Charles I and II had coronations in Scotland, whereas William II of Scotland (William III of England) and Queen Anne I took Scottish coronation oaths in London.
Dr Karin Bowie, from the University of Glasgow, said: "There is no clear precedent for the particular form of a Scottish coronation in the event of the recreation of a Union of Crowns, though some kind of ceremony would presumably be needed.
"The assumption across the 17th century was that the monarch needed to take the Scottish coronation oath, but after 1651 the oath was taken in London."
Charles II had his Scottish coronation in 1651 at Scone in Perthshire - the last coronation to take place in Scotland.
His father, Charles I, was crowned in Edinburgh in 1633.
Religious reason
Dr Jackson, from Cambridge University, said that, while it was unlikely the constitution would force a separate coronation, historical precedent and political pressure may lead to a Scottish ceremony.
She added: "Future monarchs would assume their position as before, on the death of the previous monarch, simultaneously becoming Scottish Head of State in the same ways as they become Head of State in countries like Australia and Canada.
"A separate Scottish coronation could be arranged, and there might well be political, symbolic or religious reasons why this might be arranged, but I'm doubtful that there's any current constitutional ruling on the matter."
In May 2013, the Church of Scotland approved a call to crown monarchs in both Scotland and England in the event of independence.
As the coronation is a religious ceremony, the Church of Scotland would play a key role in carrying out the ceremony if it was to take place.
Its report on the possible consequences of independence said: "The monarch should have a Scottish coronation to symbolise her or his role as Queen or King of Scots, including the obligations to uphold Scottish religious life and traditions, and in particular her or his role with regard to the Church of Scotland."
Royal household
The issue of coronation was not covered by the Scottish government's White Paper, published in November.
A spokesperson for the Scottish government said: "Future monarchs will be the Kings or Queens of both Scotland and the rest of the United Kingdom and we would expect coronations to continue as at present with any additional investiture arrangements determined alongside the royal household."
Dr Clare Jackson presents BBC Scotland's upcoming documentary series The Stuarts about the Scottish dynasty and the period when they became Great Britain's first Royal family, airing January 30th.