'Quicker' Herceptin treatment approved for breast cancer patients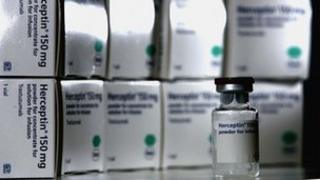 People in Scotland with a particular kind of breast cancer are set to benefit from quicker drug treatment.
About 700 patients per year who are suitable for the drug Herceptin will soon be able to have it as an injection rather than via a drip.
The body which approves new drugs for the NHS, the Scottish Medicines Consortium, recommended the injection.
It will cut each treatment from about 90 minutes to just five minutes.
The drug will be made available to people with a very aggressive form of breast cancer known as HER2-positive.
It is hoped its use will free up busy and oversubscribed chemotherapy suites.
It also means that the relatively invasive central line or cannula would no longer need to be inserted into the patient as is the current standard practice.
Dr Iain MacPherson, clinical senior lecturer in medical Oncology at the Beatson Institute for Cancer Research in Glasgow, said: "This SMC decision is good news for the treatment of breast cancer patients in Scotland.
"Until now, we've always treated patients with Herceptin intravenously which can be time-consuming and quite intrusive. This new formulation will allow patients to be treated by a simple five minute subcutaneous injection.
"As well as having advantages for patients, subcutaneous Herceptin could also help free up capacity on busy chemotherapy day units."