Celtic connections 'comes of age'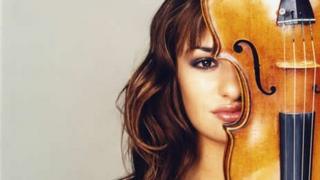 Hundreds of top musicians from around the world are to play in Glasgow over the next 18 days as the 21st Celtic Connections festival gets under way.
An opening concert featuring award-winning Scottish violinist Nicola Benedetti kicks off the programme.
The eclectic line-up also includes big names such as Bobby Womack, Suzanne Vega and Seth Lakeman.
Glasgow's new Hydro arena will be used for two shows, including an International Burns Concert.
The festival's director Donald Shaw said taking on such an ambitious venture at a huge new venue showed that the festival, which began as a way to fill the city's Royal Concert Hall during the winter slump, has really "come of age".
This year it features 2,100 artists performing at 300 events at 20 venues across Glasgow.
Last year more than 100,000 tickets were sold and revenue topped £1m.
The opening gala, which features Benedetti's debut at the festival, includes Quebecois music legend Yves Lambert and one of Malawi's leading acts, Peter Mawanga.
Mr Shaw said: "Nicola had been considering for a while trying to engage with traditional music. She genuinely loves the music and she's actually recording an album with Scottish tunes on it, working with Phil Cunningham.
"This is not an orchestral concert but it is not as if she is changing styles, she is just adding another string to her bow, as it were."
The Burns concert, which will be held on the Bard's birthday, 25 January, will feature Crowded House's Tim Finn, from New Zealand, South African vocal trio The Mahotella Queens, and Indian music star Raghu Dixit, as well as home-grown acts such as Dougie MacLean and Karen Matheson.
Mr Shaw said: "We are showing the influence of Burns, as a poet and humanitarian, on the Commonwealth nations. It is an exciting night. There will be lots of collaborations. We are always trying to find new ways to express Burns songs because they are so incredibly powerful lyrically and musically."
Other highlights include a World War One commemoration, Far Far From Ypres, which includes performances from Barbara Dickson, Phil Cunningham, Ian McCalman and Dick Gaughan.
The festival will also see shows from Oscar-winning Indian composer AR Rahman, who wrote the score for Danny Boyle's film Slumdog Millionaire, and Cameroonian saxophone player Manu Dibango, Malian husband and wife duo Amadou Bagayoko and Mariam Doumbia, and Jamaican reggae star Winston McAnuff.
Previous favourites returning for the 21st festival include Capercaillie, Salsa Celtica, Peatbog Faeries, Treacherous Orchestra, Rachel Sermanni and Gaelic singers Julie Fowlis and Kathleen MacInnes.
Glasgow pop band Del Amitri will play their first gig in more than a decade at the 12,000-seat Hydro arena on 24 January and Mogwai, who received great acclaim last year for the soundtrack to the TV series The Returned, will perform at the Royal Concert Hall.
Mr Shaw defended the inclusion of bands who were not part of the traditional or world music scene.
He said: "Over the years we have embraced the music of Glasgow. We see the festival as having a very strong Glasgow backbone to it and so I guess both Mogwai and Del Amitri are strong Glasgow bands.
"On top of that Justin Currie from Del Amitri has engaged with the festival for a number of years. We did a project about 10 years ago called Strings Attached where he performed songs with Blazing Fiddles, a traditional fiddle group, so he's not afraid of a bit of folk music."
Mr Shaw added: "A big part of Celtic Connections is about instrumental music. Traditional music is essentially instrumental and has a very hypnotic angle to it.
"Although Mogwai are a completely different direction, very electric, it is still very interesting for me how they have become very popular in terms of instrumental soundscapes. I don't think there is a million miles between a band like Lau and Mogwai to be honest."