Gordon Brown calls for shared 'social justice' vision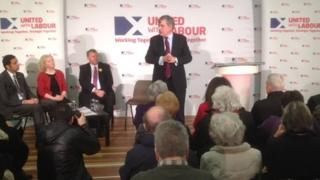 Scottish and UK parliaments could both be strengthened by a legally-binding shared vision of social justice, according to Gordon Brown.
During a speech in his constituency, the former Labour prime minister said Scotland should stay within the UK but that Holyrood should have more powers.
The MP said this included full transfer of powers in transport, health, the Crown Estates Commission and elections.
Labour's devolution commission was set up to consider possible further powers.
It will report in time for the independence referendum on 18 September when voters will be asked the yes/no question: "Should Scotland be an independent country?"
Mr Brown used his speech to set out his own vision for remaining within the union.
The Kirkcaldy and Cowdenbeath MP said there should be UK legislation to state the shared purpose of the union, "namely the pooling and sharing of resources for social justice".
He said: "I am of the view that the party that first created a powerful Scottish Parliament is best-placed to strengthen devolution and to create a stronger Scottish Parliament in a stronger UK.
"We can show how with our reforms, to be implemented by Labour administrations in Westminster and in Edinburgh, we can address some of the greatest social and economic challenges a future Scotland faces."
Calculated costs
Mr Brown also attacked the SNP over funding for their plans for an independent Scotland.
He said: "First, they calculate oil and gas revenues as at least £6.8bn in 2016-2017 when all formal and independent forecasts suggest the correct figure is likely to be around £3.5bn, leaving a £3.3bn shortfall. To make this up requires a rise in income tax of 10p.
"Second, they have failed to calculate the cost of European Union membership without the British rebate, which Scotland would not benefit from.
"In consequence, Scotland's net membership costs could be as high as £500m that the SNP have not budgeted for. Scotland may even have to contribute to the remaining UK rebate like all other member states.
"Third, while the SNP have a working party on the 'affordability' of pensions, Scotland receives proportionately more spending on pensioners than the rest of the UK and more in incapacity benefit."
He added: "It is right to set out a Labour vision of the future: the alternative to separation that shows how enhanced devolution within the union offers the Scottish people a fairer deal and a better dividend."
SNP treasury spokesman Stewart Hosie said Mr Brown was "unwittingly making the case for a Yes vote".
He questioned why he did not deliver any of these powers during the decade he spent as chancellor and then prime minister.
He said: "Gordon Brown's speech sounds as if he has no idea what is going on in the real world - the reality is that the welfare state is being dismantled by Westminster.
"George Osborne has announced £12bn more welfare cuts, hitting the the most vulnerable people the hardest, and Labour are engaged in a Dutch auction with the Tories about who will cut the most.
"Scotland's finances are stronger than the UK's as a whole - we generate 9.9% of UK tax revenues but get just 9.3% of the spending, and therefore a smaller share of our national wealth is spent on welfare, which means that pensions and benefits are more affordable for Scotland.
"A majority of people in Scotland believe that decisions on tax and welfare should be taken in the Scottish Parliament, not Westminster - and the only way to achieve that is to vote Yes for an independent Scotland in September."
Scottish Liberal Democrat leader Willie Rennie said Mr Brown's vision added to "growing momentum across Scotland's political parties for a stronger Scotland placed firmly within the UK family".
He said: "Devolution offers the best of both worlds for Scotland, allowing us to shape our domestic agenda whilst sharing the risks and rewards of the UK family."