Faroese lobby against EU sanctions in fish dispute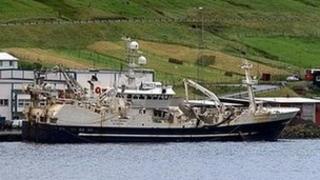 The Faroese government has asked the World Trade Organisation (WTO) to look at its dispute with the European Union.
The EU imposed sanctions on the Faroe Islands last year in a row over fishing quotas.
The Faroes and neighbouring Iceland have repeatedly failed to reach agreements with the EU over quotas of herring and mackerel.
The fish are two of Scotland's most valuable stocks, and the EU believes both species remain at risk.
The Faroes and Iceland have continued to unilaterally set increased quotas for both herring and mackerel.
That led the EU to ban the import of some fish products. Fish makes up 95% of Faroese exports.
The Faroes has previously asserted a belief that the sanctions are illegal. It has now asked the WTO to set up a panel to examine the sanctions.
The issue will also be discussed at the next round of negotiations on 20 January.