Scottish independence: Ex-civil servant Jim Gallagher joins Better Together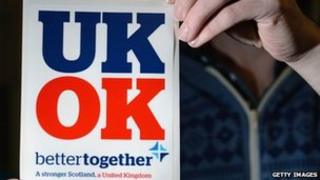 A former civil servant is to help the pro-Union Better Together campaign to "unpick and explain" the powers of the current devolved settlement.
Prof Jim Gallagher is now working for the organisation ahead of September's independence referendum.
Earlier this week, Scotland's Deputy First Minister Nicola Sturgeon urged the Unionist parties to outline their vision in the event of a no vote.
Prof Gallagher said he was "happy to help" those parties do that.
However, in an interview with BBC Radio Scotland's Good Morning programme, he said that "in the first instance" it was up to Labour, the Lib Dems and the Tories to produce their own policies.
Prof Gallagher told presenter James Naughtie: "All of the parties in this campaign are looking at these issues.
"They have got a lot of work to do - I am happy to help them in that. But the lesson they learned from the last time they did this, very successfully, is that if they work together they can produce material that works and we have that already in the Scotland Act."
The fresh piece of legislation comes into effect in 2016 and will allow MSPs to set income tax rates in Scotland and borrow more money.
The coalition government at Westminster said it represented the biggest transfer of fiscal power to Scotland in more than 300 years.
But the Scottish government believed the bill was a missed opportunity.
The referendum on Scottish independence will be held on Thursday, 18 September when voters will be asked the "yes/no" question: "Should Scotland be an independent country?"
Prof Gallagher, a career civil servant who is now a research fellow, also headed a Scottish Executive department.
He served as secretary to the Calman Commission, the body set up in 2007 to review the first decade of the Scottish Parliament.
And he has also been advising Labour on the issue of a strengthened devolved parliament within the Union.
Prof Gallagher said he would assist Better Together in putting forward a positive, persuasive case for the Union.
Ms Sturgeon believes that the pro-Union campaign must set out in detail what a "no" vote in the independence referendum would mean for the country.
Unionists must respond to the Scottish government's White Paper on independence with a competing vision, she added.
Commenting on Prof Gallagher's brief at Better Together, Sarah Jane Walls from the pro-independence campaign Yes Scotland said: "If Prof Gallagher's first interview is anything to go by it appears we will have a long wait, since he stated that it was up to the Westminster parties to come up with the answers.
"It's time for coherent answers, although history suggests we should take any grudging offer from the No campaign with a massive pinch of salt.
"By contrast, a Yes vote delivers a fully-empowered Scottish Parliament that can tailor specific policies to match our needs, priorities and goals."