New memorial for Scots organ donors created in Edinburgh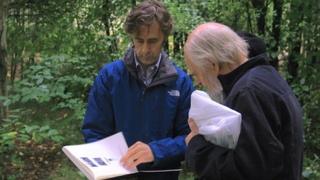 A new memorial for Scottish organ and tissue donors is to be created.
It will be designed and developed by artist Alec Finlay, with input from donor families, recipients and health care professionals.
It will be located in the Royal Botanic Garden in Edinburgh.
Very little space remains on the current Scottish donor memorial, the Loveseat, which is situated in Kelvingrove Museum and Art Gallery in Glasgow.
It was established in 2005 and is fashioned out of native Scottish hardwoods.
A silver leaf is attached for every deceased organ donor in Scotland but with space running out on it, the decision has been made to create a new memorial.
The Loveseat will remain and the new memorial is in addition.
Public memorial
The aim is to give the families of donors, transplant recipients and others whose lives have been touched by donation or transplantation, a place for quiet contemplation and to celebrate the kindness of giving and sharing.
Minister for Public Health Michael Matheson said: "Through the selfless generosity of organ donors and their families, who at a time of great tragedy honour their loved-ones wishes, many lives are saved and transplant recipients go on to lead full and active lives.
"It is right and fitting that we should acknowledge the gift that is given through organ donation with a public memorial."
Internationally acclaimed artist Alec Finlay is currently based in Edinburgh. His work reflects on human interaction with the natural environment.
He said: "I really wanted to be involved in this project, there is no better task for an artist or poet than to respond to complex and deep emotions, which this memorial is bound to bring up. It will be challenging, of course, because you are dealing with people's experiences.
"There is a relationship between life and death through the gifting of organs. It's a remarkable thing and yet it exists within a health system that belongs to all of us in Scotland.
"No one involved in organ donation thinks this is a simple concept but it is a reminder that we are all connected to one another, and that we can, potentially, help one another."
The £65,000 project will be a living memorial which will involve planting and landscaping.
Director of horticulture at the Royal Botanic Garden, Dr David Rae, said: "It is a quiet, tranquil site surrounded by Scottish native species.
"We are sure that the artwork and its location will create a sensitive and inspiring memorial for all those affected by transplantation and donation and are pleased that the whole project has developed in a truly collaborative way involving all concerned."
'Greatest gift'
A working group has been established for the memorial made up of those who have donated a loved one's organs and those who have received organs.
Sandra Warden, whose 11-year-old daughter Rachel's organs saved three lives, said: "Having a national memorial to recognise and remember all those who, in death were able to give the greatest gift of all - that of life - is very important.
"From when she was very young Rachel understood organ donation and made me promise we would donate her organs if anything ever happened to her and we fulfilled her wishes."