EIS calls for more support over new National qualifications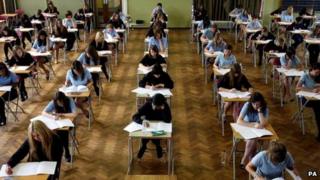 Scotland's largest teaching union has claimed teachers need more support with the new qualifications fourth-year students are studying for.
The National 4 and 5 qualifications are replacing Standard Grades this year.
A survey of EIS members suggested many teachers are angry and worried about their workload.
The Scottish Qualifications Authority said it understood that changes can be challenging, and wants to work in partnership with teachers.
Fourth-year courses in Scotland's secondary schools have undergone a radical change this year.
Instead of studying for Standard Grades through both their third and fourth year, students now study for the new qualifications over just one year.
The National 5 is the more academically demanding qualification - broadly equivalent to a credit pass in a Standard Grade. The National 4 is of a similar standard to a general in a Standard Grade.
'Serious concerns'
Students studying for a National 4 qualification will not sit final exams in April or May as their mark is based on continuing assessment by teachers.
The way some subjects are taught has also changed.
The EIS said its survey suggested that serious concerns remained over the level of practical support that has been provided to assist teachers.
The union asked its 32 local associations to report on concerns that have been raised in schools to try to get an idea of the situation across Scotland.
EIS General Secretary Larry Flanagan said: "We are witnessing an unprecedented level of concern from our members in schools about the Scottish Qualifications Authority.
"Over 80% of our local associations have contacted us directly about a range of issues: lack of clarity around procedures, inadequate support being offered, assessment overload, excessive verification demands, and poor exemplification of standards.
"Teacher anger and frustration is palpable."
Specific worries
Comments published by the union highlighted some specific worries:
One comment claimed some of the materials offered to English teachers were of poor quality and that schools had to spend time topping them up. It also noted that the materials were not released until October although the course started in June.
It was claimed some pupils studying for a National 4 in maths who thought they had passed tests had their scripts re-marked and were then told they had failed after changes were made to the national support document.
A modern languages teacher claimed their personal workload has been "utterly unmanageable due to the marking of new qualifications from the SQA that are simply flawed".
The physics course was described in one comment as "the most bureaucracy-filled course our school has seen".
'Assessment treadmill'
Mr Flanagan added: "When the EIS called for a delay to the introduction of these new qualifications, SQA supported pushing ahead with the current timetable and whilst it will claim to have met its target milestones, there simply hasn't been sufficient time for schools to implement these changes as effectively as they would wish to have.
"The new arrangements were supposed to reduce the assessment burden for both students and teachers, allowing more time for learning, but the opposite seems to be the case with some students being on an assessment treadmill."
The SQA said it was committed to working with teachers to help them make the new qualifications a success.
SQA chief executive Dr Janet Brown said: "The new Nationals are the latest step in the evolution of Scottish qualifications - and we understand that change always brings challenge.
"The new qualifications support Curriculum for Excellence and reflect the current and future needs of employers, further and higher education and wider society - and SQA is fully committed to their successful introduction.
"SQA's key priority in the coming months is to work in partnership with teachers to provide the additional support they need to ensure the Nationals are implemented to the benefit of all our young people.
"SQA listens very carefully to feedback from teachers and continues to provide a detailed programme of support, including course arrangements for the new Nationals, Specimen Question Papers, coursework and assessment materials for all new subjects."
She added: "Almost 7,500 teachers have attended 140 subject events for the new Nationals and SQA's Curriculum for Excellence Liaison team continues to visit every school across Scotland to meet teachers and parents, explain the changes, answer questions and gather feedback to gauge what further support is needed to deliver the new qualifications."
'Unprecedented support'
A Scottish government spokeswoman said: "Scottish government, SQA, Education Scotland and other partners have provided teachers with unprecedented support for Curriculum for Excellence and the new qualifications.
"This includes more than £5m of additional funding since 2012, two extra in-service days, course materials for each of the 95 National 4 and 5 qualifications, and subject-specific events for thousands of teachers.
"We will continue to listen to teachers to ensure they get further help if needed."