Scotland weather: Tidal surge flood problems mount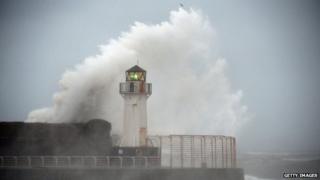 A tidal surge combined with severe gale force winds has caused flooding problems in coastal areas of western and southern Scotland.
Huge waves have been crashing over the lighthouse at Ardrossan, where the coastguard described conditions as "horrendous".
Homes were flooded in numerous towns and villages along the coastline.
A Met Office warning of rain and wind covered much of Scotland for most of the day.
It issued yellow "be aware" warnings of rain and high wind for all areas of Scotland apart from Grampian and the Northern Isles.
Environment agency Sepa had almost 40 flood warnings in place.
The south west of Scotland was one of the worst-hit areas, having suffered similar problems earlier in the week.
Dumfries and Galloway Council said numerous properties had been flooded along its coastline.
It said homes in the Isle of Whithorn, Portpatrick, Garlieston, Kirkcudbright, Annan, Carsethorn, Powfoot and Port William had been affected.
Three families had to be evacuated from the Queensberry Bay Caravan Park in Powfoot.
Head teachers at Dumfries and Galloway schools have been asked to make the authority aware of any issues which might prevent them from reopening after the Christmas break on Monday.
In Edinburgh, high winds forced the closure of Edinburgh Castle and West Princes Street Gardens, and masonry from a chimney stack fell from a building in Marshall Street. No-one was hurt.
People in Helensburgh said they were experiencing the worst conditions in many years, with the esplanade flooded and closed at various points.
Police Scotland have warned that water levels at Fort William at 19:00 will be much higher than usual.
Strong south westerly winds will result in large waves, with a risk of flooding at exposed coastal areas.
Environment Minister Paul Wheelhouse urged members of the public to remain vigilant to the threat of flooding.
He visited the Police Scotland Communications Centre in Govan to see activity in response to the severe weather.
He said: "Preparedness for flooding events such as those experienced by Scottish communities in the past week is key.
"I have seen from Police Scotland cameras that emergency responders are working extremely hard in locations around the country to provide a co-ordinated response to these difficult conditions.
"I'd like to pay tribute to the dedicated efforts of all the agencies involved in tackling flooding."
He said councils and the emergency services were "ready to react swiftly to minimise the impact of flooding".
"Keeping up-to-date with the latest information is crucial to communities vulnerable to flooding," he said.
"I'd encourage everyone to regularly check with the Sepa Floodline website for updates and warnings.
"Users can also sign up to receive Floodline warnings directly to their mobile phone."
People who need to travel are being encouraged to plan their journey carefully and take heed of any advice.
Transport Minister Keith Brown said: "Today's conditions are leading to some isolated incidents on the network and Transport Scotland is monitoring the situation from our traffic control centre.
"The flood gates on the A78 at Skelmorlie were closed by Police Scotland earlier this morning and the route will not reopen until this afternoon after the high tide.
"The trunk road operating companies are patrolling the vulnerable locations on the coast and are working with local authority counterparts to mitigate the impacts and provide alternative diversion routes where appropriate."
He said the advice was, "as always", to prepare in advance for any travel.