Steep fall in compensation payments to injured teachers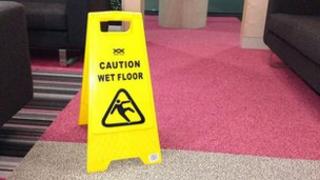 The amount of compensation given to teachers and lecturers injured at work fell dramatically in 2013, according to Scotland's largest teaching union.
The EIS secured more than £300,000 for its members - down from £1.5m in 2012.
The organisation described the decrease in payouts as a "positive development" which suggested fewer staff were being seriously hurt at work.
A teacher injured in an assault received the year's largest payout, an award of £131,000.
The attack left the member of staff with long-term wrist and shoulder injuries.
Most of the incidents involved trips and slips. Other compensation cases in 2013 included:
A payout of £12,500 for a slip and fall on a floor that was in the process of being cleaned, but without signs warning that the surface was wet
£15,000 for an electric shock to the back of a hand
A teacher who was punched in the face by a pupil received £4,400
£13,000 for a slip on a puddle of water in a games hall which led to a ruptured Achilles tendon
A teacher who was diagnosed with a detached retina after a pupil threw a sign received £6,865
EIS general secretary Larry Flanagan said the fall in the amount of compensation was significant.
He said: "This is actually a positive development, as it highlights that there have been fewer very serious injuries to teachers and lecturers at work over the past year.
"Ideally, we would eventually like to report a zero figure for work-related injuries as the main goal must always be to avoid accidents and prevent injuries to education staff.
"However, whenever an EIS member is injured in the course of their work, we will continue to do all that we can to achieve a fair settlement on their behalf to provide appropriate compensation for the pain and distress that they have suffered."