Consultation launched on licensing and microchipping dogs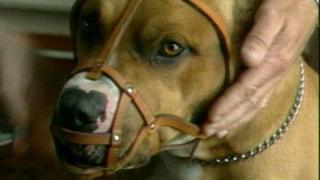 Dog owners could soon be required by law to have their pets microchipped under new proposals being considered by the Scottish government.
A consultation launched, aimed at cutting the number of dog attacks, will also consider whether dogs should be licensed and muzzled.
First Minister Alex Salmond said dog owners "must take full responsibility" for their pets.
The consultation will run until 31 March.
Police, councils, prosecutors and victims groups will meet in the new year to discuss the measures.
Earlier this month, Mr Salmond met the parents of children injured or killed by dangerous dogs to discuss what more could be done to prevent attacks.
Broagan McCuaig, aged eight, and four-year-old Sophia Bell were badly injured in separate attacks this year.
In 1989, Kellie Lynch, 11, was killed by two rottweilers.
'Strict measures'
Launching the consultation, Mr Salmond said: "I was grateful for the opportunity recently to hear directly from the parents of children who were attacked by dangerous dogs, and the ongoing effect this has had the families of Kellie Lynch, Sophia Bell and Broagan McCuaig.
"While we already have strict measures in place to deal with dangerous dogs, the Scottish government is continually exploring ways to improve procedures to keep our children and communities safe.
"I am clear we must always consider whether more can be done to ensure people are properly protected."
The consultation, which is seeking views from experts and members of the public, will explore a number of proposals including:
Compulsory microchipping, which would help the authorities identify dog owners and hold them responsible for the behaviour of their animal. According to the government, this measure would also help ensure owners did not breach welfare standards. Countries such as Denmark, France, Canada and Northern Ireland have already adopted the scheme.
Dog licensing. A previous licensing scheme was abolished in the UK 1987. At the time only about half of all owners adhered to the law and obtained a licence, which cost 37p.
Compulsory muzzling. Under current dog control notices animals deemed to be out-of-control, or at risk of behaving dangerously, are already be muzzled in public. Extending the measure to all dogs could be controversial, however, since it can be difficult for dogs to pant or take in water while muzzled during exercise.
Justice Secretary Kenny MacAskill said Scotland already had a "robust" approach to dog control, but he was keen to look at measures that would strengthen current laws.
Since it was introduced in February 2011, the Control of Dogs Act Scotland 2010 has led to 3,200 investigations into potentially out of control dogs and the issue of 240 dog control notices.
The notices require owners to microchip their dogs and can also insist on other measures such as muzzling in public.
Prevention
The law was also strengthened to cover dog attacks in homes and gardens.
Mr MacAskill added: "We want to hear what the public think about measures to encourage even more responsible dog ownership, for example a new system of dog licensing, to ultimately further improve public safety.
"This consultation will allow people to offer their views on whether a more general system of muzzling of all dogs is practical or justified.
"It is crucial that our consultation approach fits the needs of our communities and we are keen to listen to the public to get their views on what more can be done to further improve public safety.
"Every incident is one too many - we need to ensure Scotland's system continues to focus on preventing these tragedies."