Scottish shoppers seek Boxing Day bargains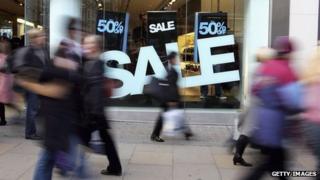 Tens of thousands of shoppers have hit the high street in search of a bargain in Scotland's Boxing Day sales.
The keenest bargain hunters queued up from 03:00 and some stores opened their doors at 06:00 to deal with the anticipated demand for sale products.
Prices have been discounted by as much as 83% by some retailers in order to attract shoppers.
It comes after reports that £350m was spent online in the UK during Christmas Day.
At Silverburn shopping centre, in Glasgow's south side, customers started queuing up outside the Next store before 03:00 - the shop opened at 06:00.
The centre's deputy manager George Reader said: "It's been nothing short of incredible, we've had people arriving at the centre since just before 3am this morning, which we've never seen before.
"Normally the Boxing Day sales are associated with clothes but people have been buying homeware, gadgets, phones, everything, people are still coming in and buying toys.
"What we're finding is people who were given cash or gift vouchers as presents are all out today to make the most of the deals."
'Busiest Boxing Day'
The Glasgow shopping centre enjoyed a 20% year-on-year increase in footfall in the week leading up to Christmas.
Mr Reader said he expected it to be the centre's busiest ever Boxing Day.
Shoppers also had an early start at Braehead in Renfrewshire and Union Square in Aberdeen, where they queued from 05:00.
Shopper numbers in the three days before Christmas at Union Square were up 9% compared to last year.
Braehead manager Gary Turnbull said: "More than a thousand people were queuing from as early as 5am for the Next sale to start at 6am.
"Some people had even brought along folding camping chairs to sit on while they were queuing and had flasks of tea and coffee to keep them going.
"The tradition of hitting the shops on Boxing Day is now almost as much part of Christmas as Santa, roast turkey and all the trimmings."