Park lions get special festive treat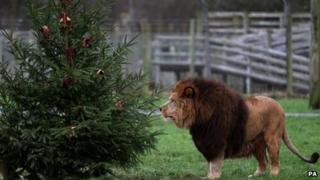 A pride of lions has enjoyed a special Christmas dinner, as they feasted on a festive tree decorated with meat.
The treat was supplied to the group at the Blair Drummond Safari Park, in Stirling.
Park operations manager Gavin Hughes said: "For the lions, the beef is a good source of enrichment so it helps them to grow and stay strong.
"I don't know if you get that with the traditional turkey and all the trimmings."
The Christmas trees were supplied by the park's own forestry department.