Scottish Ambulance Service warning over trivial calls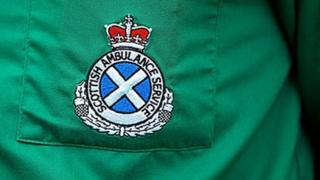 The Scottish Ambulance Service (SAS) has issued a new call for the public to use the service "sensibly".
It said ambulance crews deal with surges of 20-30% in calls at peak periods over the Christmas and New Year holidays.
Recent inappropriate calls to the SAS included one from someone who had lost their house keys.
Another caller contacted the ambulance service asking for help because their boiler had broken down.
SAS chief executive Pauline Howie said: "Our staff work tirelessly to respond to calls for help and deliver the most appropriate care, but the 999 service is for serious emergencies and we are asking the public to use it wisely so that we can continue to send ambulances quickly to those that need us most.
"At peak periods, like the festive season, every inappropriate call has the potential to delay a response to a serious emergency."
Other calls to the service have included:
An escaped bird inside a house
A beeping smoke alarm
A cut finger
The SAS said its average response time for a life-threatening situation is 6.5 minutes.