Traditional music: 'Its time has come'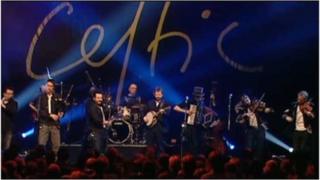 "I think it's just been waiting for its chance," says Simon Thoumire, creative director of "Hands Up For Trad," an organisation dedicated to increasing the profile and visibility of Scottish traditional music.
"I can't think of anything better, more inclusive and I think getting wider recognition has just let people get involved."
The depths of winter is traditionally a good time for a party and January is no exception, as musicians from across Scotland and the wider world will be gathering for the annual Celtic Connections festival.
Those involved in the traditional music scene say it is vibrant and lively, with more young people involved than ever before.
Award-winning Scottish Gaelic band Manran got together in 2010.
The idea behind the band was to bring together Highland bagpipes with the Irish, uilleann pipes, singing in both Gaelic and English and bring other instruments in to create a rockier sound - a modern take on the traditional.
Decent living
Accordion player Gary Innes says: "In the 70s and 80s you played with a band and if that band was successful you did well."
He says the traditional music scene has changed, not least because it is seen as being "cooler" than it once was and many more people are involved.
"You have to have your fingers in quite a few pies to manage a decent living at music," he continues.
"By that I mean teaching, or in other groups, workshops, other ways of working as well.
"I know some of the lads work the odd shift in coffee shops, work the odd shift in bars as well. There are a few of us that are very fortunate that music is our only kind of real income."
Traditional music covers a very broad range of styles; Scots, Gaelic, dance bands, folk music, pipe bands and so on.
"The worldwide web has been an amazing thing," says Simon Thoumire. He also points to increasing numbers of young people involved in the traditional music scene.
He says: "We're everywhere across the world. Before the internet it was quite difficult for your record to be heard outside of someone who owned an LP, but nowadays with streaming and downloads and any of these kind of things we've immediately got worldwide distribution."
One of many routes that people take into traditional music is through is the Royal Conservatoire of Scotland.
At a busy lunchtime in the canteen it is full of people eating and chatting. Among the other arts and music that it is possible to study here is Scottish music. The course was originally set up in the mid 1990s and at that time was viewed as being quite different.
"At the time I think we were innovative," says the head of Scottish music, Josh Dickson. People have since come from all over the world to study it, indeed Mr Dickson is himself originally from Alaska.
Fiddle music
He says those who started the course were "responding to an organically emerging and compelling argument, both politically and educationally, pedagogically, for recognising the role of traditional music and the value of traditional music in Scotland at the highest levels of education.
"This was the natural place for recognising the value of Scottish traditional and folk music alongside classical music, opera, what people would essentially consider to be high art forms. At the time, traditional music was certainly considered an innovative breakthrough of the glass ceiling if you will."
A former student, who makes her living in traditional music is the Shetland fiddler, Jenna Reid. She plays solo as well as with a variety of bands including Blazin' Fiddles. She also teaches and is keen to share her love of music with younger people.
"Growing up in Shetland, I was extremely lucky to be within a school system that promoted fiddle music and the culture and the traditions so heavily.
"Even the social aspects of it," she continues "children the same age as you, really playing lots and enthused about it, social gatherings at weekends, and ceilidhs and dances.
"It was just part of life growing up in Shetland and the most natural thing to do was to find a way of continuing that."
So what does the future hold for traditional music and those who make a living from it?
"I tend to look at it as an opportunity for those students who are entrepreneurial," says Josh Dickson "and if we can teach them to provide a living for themselves in a way that pays respect and all genuine homage to their music, recognising that they are a link in the long, historical chain and looking to the future as tradition bearers, then they're in a good place.
"Folk song, folk music, traditional music, piping, song in general is characterised as a voice of Scotland. I don't think we'll see a peak of interest - I think that interest will continue to thrive."