Victims of alleged abuse criticise church over support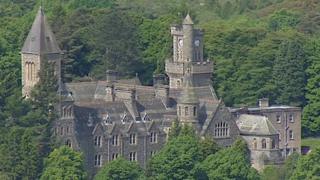 The Catholic Church in Scotland has been criticised for its handling of reports of historic abuse at two prestigious catholic boarding schools.
Former pupils of Fort Augustus Abbey school and its preparatory school Carlekemp claimed no senior clergy had sought out victims to offer support.
After the story escalated, bishop Hugh Gilbert promised victims help.
The Catholic church's initial reaction to the Fort Augustus scandal was to direct attention to the Benedictines - the religious order which ran the schools in the Highlands and East Lothian.
Dom Richard Yeo, the Abbot President of English Benedictine Congregation, which unites autonomous Roman Catholic Benedictine communities of monks and nuns, apologised and admitted his organisation made mistakes in dealing with allegations of child abuse.
As more victims came forward, one of the Catholic church's most senior clergy, bishop Gilbert, spoke out and said that everything that could be done, would be done for the victims.
He called the abuse allegations "bitter, shaming and distressing".
In August, police officers investigating allegations of abuse at the schools said they had identified 20 possible victims.
On Thursday it emerged that three men had been reported to the Crown Office in connection with alleged abuse at the school.
However, it has been claimed that no-one from the church has contacted any of the men who allegedly suffered at the hands of monks.
'Expected phone call'
David Walls, a former pupil who suffered physical and sexual abuse at Carlekemp in the 1950s, told BBC Scotland: "What's happening is that the parcel is being passed.
"Bishop Gilbert has written to a victim saying 'I'm not responsible'. Speak to the Benedictines. The Benedictines have written to myself saying, 'we're not responsible'."
Another former pupil, Donald MacLeod, attended Fort Augustus school from the age of 14, in the early 1960s.
"I had expected a phone or some contact because they knew how to contact me quite simply and easily, and they knew about me because I was on the BBC," he said.
He said he had expected the Church to "live up to their responsibility and do the Christianity thing and help people who in their care have suffered".
The Catholic church told the BBC that it would be unreasonable for those who were not responsible to respond, and that the church remained open to hearing from anyone who suffered abuse.
A spokesman said: "Implicit in the bishop's words was the belief, that everything that can be done, should be done, by those responsible."
He said victims could make themselves known, in the first instance, to the Safeguarding Teams in their local Diocesan Office or to the National Office.
"Those who have been affected by events at Fort Augustus have had opportunities to meet and talk with the appropriate people," he said.
"Abbot Richard Yeo has been twice to Fort Augustus and spoken with people there, both together and individually.
"At least one of the former pupils who contacted bishop Gilbert, was referred to Abbot Richard. The latter followed this up and expressed a willingness to meet. There was no response from the former pupil."
This account is disputed by the former pupil.
In response to the alleged abuse at Fort Augustus and other scandals, the Catholic church last month published details of abuse allegations made between 2006 and 2012.
It said it would carry out a review of all abuse allegations made between 1947 and 2005.
The Church is also carrying out an external review into its safeguards against abuse.