Three men reported over Fort Augustus abuse claims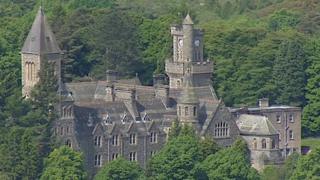 Three men have been reported to prosecutors in connection with alleged abuse at a former Catholic boarding school in the Highlands.
Police Scotland said they had spoken to a number of victims and witnesses in relation to reports of historic abuse at Fort Augustus Abbey school.
They said officers had also worked with law enforcement agencies abroad.
In September, a man was charged in relation to claims of physical and sexual abuse at the former school.
Fort Augustus Abbey school on the banks of Loch Ness was run by Benedictine monks but closed down in the 1990s.
The police inquiry into allegations of abuse at the school began in March.
A BBC Scotland investigation into claims of abuse at the school, and at its preparatory school, Carlekemp in East Lothian, was broadcast in July.
A Crown Office spokesman said: "The procurator fiscal at Inverness has received reports concerning three men, aged 77, 80 and 81, in relation to incidents alleged to have occurred between January 1969 and July 1984.
"The reports are under consideration by the procurator fiscal."
A Police Scotland spokesman said: "In relation to the investigation into historical physical and sexual abuse at Fort Augustus Abbey, Police Scotland have interviewed and spoken with a number of victims and witnesses of abuse and as a result have reported three men to the Crown Office and Procurator Fiscal Service.
"This is very much an ongoing investigation which was initiated by Highland and Islands division in March 2013 and has extended to liaison with a number of law enforcement agencies both across and out with the UK.
"We understand that it is very difficult for victims of abuse to speak about their experiences and a helpline run by Children 1st is available to provide support and advice to those who may be affected by the investigation."