Baby names: Jack and Sophie again Scotland's most popular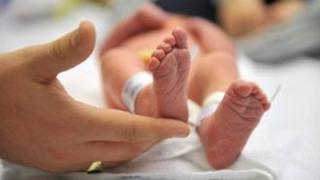 Jack and Sophie were again the most popular Scottish baby names in 2013, it has been revealed.
National Records of Scotland said Sophie had now been the top girl's name for nine years in a row, and Jack the top boy's name for six in a row.
There were 561 Jacks registered in Scotland in the first 11 months of this year, and 474 Sophies.
Of the 26,700 boys and 25,200 girls registered, parents chose more than 7,400 different first names.
Around 4,800 of these names were unique.
But while the top two names remained the same, there were some perhaps surprising changes among those that followed them.
Top ten
James became the second most popular boys' name for the first time in this century, with Lewis dropping to third.
Jack and Lewis were the top two boys' names from 1999 until 2012, with Jack at number one, and Lewis second, in ten of those 14 years. The order was reversed in the other four years.
Oliver rose six places to fourth, and Daniel was up one at fifth.
There were two new entrants to the boys' top ten: Lucas (up 12 places to eighth) and Charlie (up two places to tenth).
Logan (sixth), Alexander (seventh) and Harry (ninth) made up the rest of the boys' top ten.
Two names dropped out of the boys' top ten: Ethan (down five places to twelfth) and Riley (down nine places to thirteenth), with the latter's fall in sharp contrast to its jump into the top ten in 2012.
Harris, Jacob, Noah and Thomas moved into the boys' top twenty, with Aaron, Adam, Liam, Ryan and Tyler dropping out. The "extra" drop out was because two names were joint twentieth in 2012.
New entrants
Olivia climbed two places to become the second most popular girls' name in this year's list, just nine behind Sophie in numbers.
Emily fell from second to third, and Isla rose from sixth to fourth.
There were two new entrants to the girls' top ten: Ella (up 16 places to eighth) and Millie (up one place to tenth). Lucy, Ava and Jessica are fifth, sixth and seventh, respectively, Ava having fallen from third. Amelia remained ninth.
Lily (down four places to eleventh) and Mia (down seven to seventeenth) dropped out of the girls' top ten.
There were two new entrants to the girls' top twenty - Ella and Erin - with Hannah and Holly dropping out.