Scotland's referendum: Ten things we learned in 2013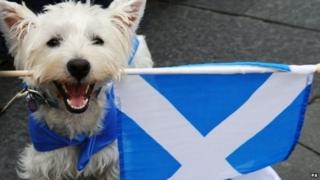 The independence debate began to gather pace in 2013. Here, are 10 things we discovered about the referendum during that year.
1. The question
We now know what will be asked on the big day, but writing the question wasn't straightforward. The Scottish government's initial suggestion - "Do you agree that Scotland should be an independent country?" - was examined and re-examined. But after much debate and consultation, it was settled: the Scottish people will be asked "Should Scotland be an independent country?"
2. Eurovision plans
The Scottish government's White Paper tackled many of the big issues surrounding the debate. However, tucked away on page 532 was an answer to the question on everyone's lips: it was confirmed that an independent Scotland would compete in the Eurovision Song Contest.
3. The referendum date
This was a tricky one. Too early in the year then the weather might be terrible, too near the middle of the year then the weather might be terrible, and too late in the year then the weather might be terrible. That's just Scotland. As it happened, they settled on 18 September, 2014, when there is at least a chance that voters will be able to travel to polling stations without the aid of a catamaran.
4. 16 and 17 year olds will be allowed to vote
For the first time, 16 and 17 year olds in Scotland will be able to use their vote on something more substantial than determining which celebrity triumphs in the Australian "jungle". But who will they vote for? That isn't certain, but the one thing that is guaranteed - both campaigns will be attempting to woo them on Twitter, Facebook and other social media.
5. There will be a 16-week campaign period
"A week is a long time in politics" said former Labour prime minister Harold Wilson. Well, the formal referendum campaign period, starting on 30 May, will see lots of "long weeks". Each campaign will have £1.5m to spend on winning votes over the three months - so watch out for many, many campaign fliers dropping through your letterboxes.
6. Alex Salmond and Beyoncé have something in common
Scotland's Deputy First Minister Nicola Sturgeon revealed to delegates at the SNP Party Conference in October the details of First Minister Alex Salmond's referendum diet. Both he and singer Beyoncé follow the same 5:2 fasting regime, also known as the Bikini Panic Diet. (PS, Beyoncé has, thus far, remained neutral in the independence debate).
7. White Papers are very long
It turns out that a blueprint for national independence can result in a hefty read. At 670 pages, the Scottish government's White Paper is roughly the same length as Harry Potter and the Goblet of Fire and there isn't even a single dragon in it. It does, however, tackle all of what the Scottish government believes are the important referendum issues. You can download it or order a free copy here.
8. There will be no Cameron v Salmond stand-off
We will see many fiery debates before next September. One we are being told we won't see, is a TV showdown between Alex Salmond and David Cameron. The Prime Minister turned down the First Minister's invitation to a public debate, saying it was just a "convenient means of deflecting attention away from the real issues".
9. BBC Scotland might become the SBS
The White Paper said that, under independence, BBC Scotland would be gradually transformed into the Scottish Broadcasting Service. This means that, while the Scottish public would still be able to watch Dr Who and Eastenders, it would have more stuff made for Scotland rather than for the whole of the United Kingdom. It also means that the broadcaster would have an enormous letter B and C to sell from the building of its Glasgow HQ.
10. Independence day?
The USA has July 4. The Scottish government says that, if Scotland votes "Yes" in 2014, it will have its independence day on March 24 2016. Will it happen? Let's wait and see what next year brings...