Scottish liver disease deaths 'among highest in Europe'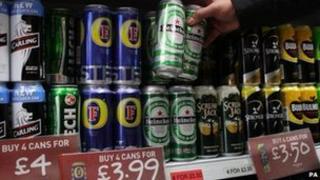 Scottish deaths from chronic liver disease are among the highest in Europe, new statistics have suggested.
Compared to countries in central, western, northern and southern Europe, only Hungary has a higher mortality rate than Scotland.
The rates are almost 70% higher than the average across the UK and 60% higher than 30 years ago.
Meanwhile, a target for cancer patients to begin treatment has been missed by half of Scotland's NHS boards.
Seven boards failed to hit the standard for getting at least 95% of patients with a suspicion of cancer to their first treatment within 62 days.
The liver deaths statistics have been published by the Scottish Public Health Observatory, a collaboration led by Information Services Division Scotland (ISD Scotland) and NHS Health Scotland.
It said male mortality rates for chronic liver disease (CLD) were twice as high as those reported for women, and that people in the most deprived areas were more than five times more likely to die of CLD than those in the least deprived.
'Too high'
Scotland's Public Health Minister Michael Matheson said alcohol minimum pricing would "save lives".
"The death and suffering caused by chronic liver disease is far too high and much of the blame lies with our relationship to alcohol," he said. "Cheap alcohol comes at a cost to our nation's health and we need to reduce the toll alcohol is taking on our society.
"It is unacceptable to see that Scotland ranks amongst the worst countries in Europe for CLD. Alcohol misuse costs Scotland £3.6bn per year. That's £900 per adult whether they drink or not that could be put to better use.
"The affordability of drinks with high levels of alcohol is a particular problem we must address, and minimum unit pricing is a key part of the solution."
The Scottish Parliament has passed legislation which seeks to introduce a minimum price of 50p per unit.
However, the plan has faced legal challenges from European wine and spirit producers and the Scotch Whisky Association.
Waiting times
According to the latest statistics on cancer waiting times, covering July to September, NHS Grampian scored the lowest with 89.5% of patients getting their first treatment within 62 days.
Orkney was the only board to hit 100%.
The 95% target was also missed by Highland, Borders, Fife, Ayrshire and Arran, Greater Glasgow and Clyde, and Shetland boards.
The national average was slightly below the target at 94.5%.
All 14 boards passed a second target to ensure 95% of all patients, regardless of route of referral, wait a maximum 31 days from decision to treat to their first treatment.
In this case, the national average was 98.1%, up slightly on the previous figures.
Health Secretary Alex Neil said: "We understand that having to wait for tests or to begin cancer treatment can be frightening and at the very least frustrating.
"That is why we continue to scrutinise performance across NHS Scotland and request action plans from NHS boards where performance against the cancer waiting times standard has not been maintained."
The waiting times statistics have been published by ISD Scotland.