Lockerbie: Ex-FBI chief Robert Mueller says 'others will be charged'
The man who has headed the FBI for the past 12 years has told the BBC he expects "others will be charged" over the Lockerbie bombing.
Robert Mueller insisted that "progress" had been made in the investigation since the Libyan revolution in 2011.
Mr Mueller completed his term as director of the FBI in September.
The president of the US Victims Of Pan AM Flight 103 group said he feared instability in Libya could prevent the case from ever being fully resolved.
Pan AM flight 103 was blown out of the sky four days before Christmas in 1988, killing 259 on board and 11 people on the ground, in the south of Scotland town of Lockerbie.
A total of 189 of those killed were American citizens.
The US Federal Bureau of Investigation has been involved in the bid to track down those responsible, alongside Scottish authorities.
The only person ever convicted of the bombing was the Libyan, Abdelbaset al-Megrahi.
He was released from prison on compassionate grounds and died last year, still protesting his innocence.
In a rare interview, to mark the 25th anniversary of the deadliest act of terrorism in the UK, Mr Mueller said he was confident the ongoing investigation would "continue to produce results".
"We have FBI agents who are working full-time to track down every lead, as we have since it occurred 25 years ago," Mr Mueller said.
"My expectation is that continuously we will obtain additional information, perhaps additional witnesses, and that others will be charged with their participation in this.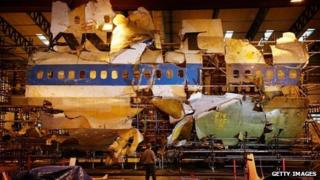 "We do not forget. And by that I mean the FBI, the US Department of Justice, we do not forget," he said.
In January 2013, UK Prime Minister David Cameron announced that Scottish police would be allowed to visit Libya to pursue their inquiries in the Lockerbie case.
That followed a visit to Tripoli by Scotland's top prosecutor, Frank Mulholland, and FBI director Mueller in April 2012, after the overthrow of Libyan leader Muammar Gaddafi.
Mr Mulholland, Scotland's lord advocate, said on Monday that Libya had appointed two prosecutors to work on the Lockerbie case.
He told the BBC that the Libyans would work alongside Scottish and American investigators and described this as a "welcome development' which he said would hopefully lead to progress in the case.
Robert Mueller said there had been progress since the revolution in Libya and he expected that to continue.
But he acknowledged that violence and instability in Libya was making things more difficult.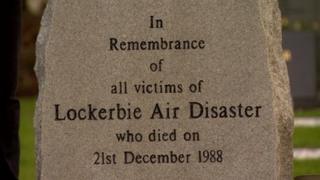 "The problem in Libya now is the government is struggling to maintain security and order and bring peace to the country," he said.
Frank Duggan, who is president of the Victims Of Pan AM Flight 103 group in the United States, said he was concerned that Libya was so volatile that the Lockerbie case may never be fully resolved.
"I'm afraid not," Mr Duggan said.
"The Libyan government say they'll be supportive and I'm not sure I believe them.
"Even if they wanted to, they can't. They don't control their own country," he said.
Mr Duggan said he was also concerned about how much priority will be given to the Lockerbie case in a country with so many legacy crimes to deal with.
He said: "They're trying thousands of people [over those] who were killed in the last couple of years.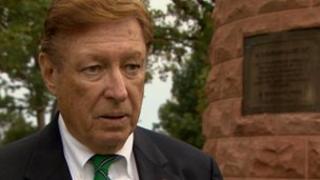 "We're talking about 270 people who were killed 25 years ago, we're pretty far down the list, I think".
Shortly before the 24th anniversary, Libya's ambassador in London, Mahmud Nacua, told the BBC his government was prepared to open all files related to the Lockerbie case but only when security had been established.
His counterpart in the US, Ali Aujali, who was Libya's representative in Washington from 2004 to 2013, has suggested the Lockerbie material could be released now.
"I think there is no reason for delay and I'm sure that Libya will be very happy to find the truth ... because the people who are responsible for all these crimes, they are part of the old regime," said the former ambassador.
Most US relatives believe Megrahi was guilty of the bombing.
But some of the British relatives of Lockerbie victims, led by Dr Jim Swire, are campaigning to clear his name.
'Others brought to justice'
Robert Mueller said he was open to new evidence but remained convinced "the proof was solid on Megrahi".
He said: "My expectation is there are others who may well be brought to justice as a result of continuing investigation by both ourselves as well as the Scottish authorities".
Mr Mueller has been involved with the Lockerbie case for more than 20 years.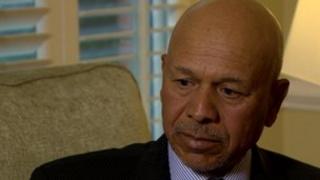 He was assistant attorney general in the United States in 1991 when indictments were issued for the two Libyan suspects, Megrahi and Al-amin Khalifa Fimah.
At a trial in 2001, Fimah was acquitted. Megrahi was found guilty and jailed for life.
His first appeal against conviction was rejected. He dropped a second appeal prior to his release from prison.
Scottish justice secretary, Kenny MacAskill, freed him on compassionate grounds in August 2009 because he had been diagnosed with terminal cancer.
At that time, Robert Mueller wrote a scathing letter to Mr MacAskill in which he said his decision "gives comfort to terrorists around the world".
In his BBC interview, which he said would be his last, Mr Mueller was asked if he had reflected on this intervention.
"My letter still stands," he said.
He is expected to attend the annual Lockerbie memorial event at Arlington national cemetery on Saturday.
There will also be 25th anniversary commemorations at Syracuse University, which lost 35 students, as well as at Westminster Abbey and in Lockerbie itself.
Living With Lockerbie will be broadcast on Saturday 21 December at 09:10 GMT on BBC World News. The programme will be available on the iPlayer.