Tougher sentences for break-ins over festive period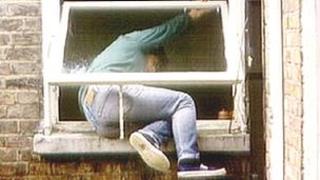 People who break into houses will face up to five years in jail under a tough new prosecution policy to be enforced over the festive period.
The crackdown was announced as Police Scotland said it had recorded a 4% rise in housebreakings since April.
New police teams are being created in problem areas such as Edinburgh and Aberdeen to tackle the problem.
Police Scotland has already targeted violent crimes and sexual and domestic abuse with specialist teams.
The force claims more of these are now being reported and solved but consultation with local communities has revealed housebreaking is a significant concern for many people.
The force said areas with the greatest problem would receive additional resources.
Housebreaking is usually prosecuted on summary complaint in front of a sheriff, with a maximum sentence of one year imprisonment.
But the Crown Office said anyone accused of the offence in the next few weeks will face a trial on indictment before a sheriff and jury with a possible sentence of up to five years.
Previously only the most serious cases of housebreaking were prosecuted on indictment.
Solicitor General Lesley Thomson QC said the policy was designed as a strong deterrent to criminals who cause misery for their victims.
She said: "Housebreaking is a traumatic experience for anyone. Apart from suffering the loss of cherished possessions, it can often leave people afraid of being in their own homes, particularly the elderly or those who live alone.
"We know people can be away at this time of year and many have expensive items stored in their homes, making them a target for a break-in.
"The loss of presents which people have often saved all year to buy is particularly sickening for those involved."
The policy will be in force until 6 January and will apply to the crimes of theft by housebreaking, housebreaking with intent to steal or attempts at either of those offences.
Identifying concerns
Police Scotland said some parts of the country were experiencing greater levels of the crime than the national average.
It has launched Operation RAC with dedicated teams to investigate break-ins to homes, businesses and out-buildings in those areas.
Assistant Chief Constable Wayne Mawson said: "We recently launched our local policing campaign, which provides us with the opportunity to speak with individual communities and identify the issues or concerns specifically affecting their area.
"As a result, housebreaking has been highlighted as a priority for a number of our divisions and officers in these areas will be taking targeted action to detect anyone involved and deter further offences from occurring.
"I say this message directly to those intent on committing housebreakings in Scotland - if you engage in this invasive and distressing form of crime, we will use every resource at our disposal to remove you from our communities and ensure you spend time behind bars."
The operation will initially run in Edinburgh, Forth Valley, Lothian and Borders, Fife, Highlands and Islands, Aberdeenshire, Moray, Aberdeen and Lanarkshire.