Stakeholder session on Scotland's Future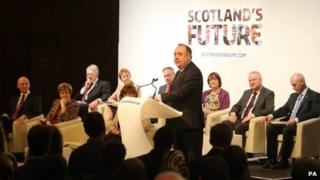 There is something, I confess, about the word "stakeholder" which makes me squirm. Somehow, it oozes corporate branding, an attempt to corral, chirpily, the disparate, disputatious morass which we call society.
I retain an enduring affection for 1930s movies. After all, Groucho Marx summed up certain politicians perfectly when he opined: "Those are my principles and, if you don't like them, well, I have others."
Anyway, repeatedly watching such movies means I cannot hear the word "stake" without thinking of Bela Lugosi.
Neither the Count nor any other Transylvanian gentleman was present at the Edinburgh International Conference Centre this morning. Too light, probably.
But, still, the "stakeholder" session with Alex Salmond and his cabinet worked rather well, within limits.
Those limits? The very disparate nature of civic Scotland. Everyone, quite rightly, wanted to get their question in, to get their point across. And so the debate flitted around, gadfly style.
But there was real interest too - most obviously in the range of topics raised by the stak…., sorry, people. Social policy, the currency, egalitarianism, childcare, the EU.
High turnout
A good question, too, from Martin Sime of the Scottish Council for Voluntary Organisations. How, he challenged, could the debate be extended from those accustomed to carrying stakes to those accustomed to bearing burdens; the dispossessed, the disengaged?
Both Alex Salmond and Nicola Sturgeon insisted that the topic of independence was attracting interest across Scotland - and that they anticipated a high turnout in the referendum.
So, good stuff. But perhaps the most direct challenge came from sundry business folk in the audience; notably, David Watt and Ian McKay from the Institute of Directors (IoD).
First Mr Watt then Mr McKay asked about the bottom line. How could the promises contained in the White Paper be afforded?
John Swinney suggested that the WP contained both putative spending plans - and potential savings. It was, he stressed, costed. Alex Salmond emphasised that but also promised further details on individual issues - such as the Royal Mail - as the debate developed.
To be fair, the IoD guys noted that they also wanted more detail from those endorsing the Union. More questions to come, more answers. The calibre of those replies will determine the response to the Big Question: Should Scotland be an independent country?