Power restored after storm caused cuts across Scotland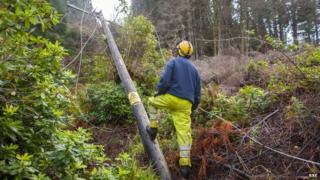 Power supplies have been restored to almost all the customers across Scotland who were cut off during the storms earlier this week.
Engineers have been working to reconnect homes after trees and debris blew onto overhead cables causing damage and bringing down some lines.
Scottish Power said customers should be reconnected by Saturday night.
A spokesman for Scottish Hydro said "all but a few" customers were back on mains supply.
He added: "We'd like to assure customers still affected that we are working as hard as we can to restore their electricity supplies as soon as possible."
At the height of Thursday's storms, the entire Scottish rail network was closed and power was cut to 130,000 properties.
Scottish Hydro had deployed welfare vans to affected areas to provide hot water, charge mobile phones and provide hot food and drinks.
Scottish Power said it had 650 engineers, 150 of them drafted in from England, working to reconnect supplies.