C. diff infection rates falling among Scots pensioners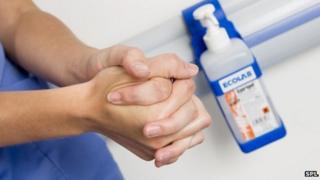 Cases of Clostridium difficile among patients aged 65 and over in Scotland have fallen sharply in recent years, government figures show.
There were 1,382 reported cases of C. diff last year, about a fifth of the 6,430 cases reported in 2007, Health Secretary Alex Neil said.
He was responding to a recent parliamentary question by Conservative MSP Nanette Milne.
In the first six months of 2013, 608 cases among pensioners were reported.
SNP MSP Bob Doris, deputy convener of Holyrood's Health Committee, said the reduction demonstrated "the dramatic impact the SNP's focus on tackling hospital-acquired infection (HAI) has had".
He said: "Last year there were over 5,000 fewer people aged 65 or over reported to have C. diff since the SNP came to power.
"That is a fantastic achievement and could not have been achieved without the hard work and dedication of our health service.
"But every case is one too many, and we need to keep working hard to keep these numbers coming down.
"There have been falls across every NHS board in Scotland and we must praise the hard work that has been done by NHS staff to help cut infection."
He added: "Investment in tackling HAIs, bringing cleaning back into the public sector and establishing the Healthcare Environment Inspectorate are all key steps taken by the SNP to cut C. diff rates across Scotland."