Nelson Mandela death: a day of freedom and inspiration in Glasgow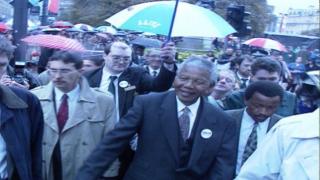 It was a dreich autumn day in Glasgow; the rain poured down and the skies remained stubbornly grey.
But the thousands of Scots who waited patiently in George Square were unperturbed. What did a bit of rain matter when Nelson Mandela was about to come out and talk to us?
The sense of anticipation was immense. People in the crowd talked of the apartheid struggle, Mandela's long journey to freedom, the huge responsibilities he would face as the first black president of his divided nation.
They also talked about more prosaic things: what would he think about the rotten Scottish weather?
And then, suddenly, there was Mandela on the stage, waving and saluting us as we saluted him. The noise was unbelievable, the emotion on both sides palpable.
The cold grey skies provided the perfect contrast to the feeling of warmth that emanated from both sides of the stage in George Square.
We couldn't believe it: Mandela was here with us.
I was 18 years old that day in 1993, having moved to Glasgow from Fife a week earlier, about to start a whole new life at Glasgow University.
My family wasn't a political one, but modern studies was my favourite subject at school and by the late-1980s the Scottish education system had provided me with a solid grounding in the evils of the apartheid regime and the names of those who stood against it: Nelson Mandela, Stephen Biko, Donald Woods.
I was also a huge music fan and had often heard the Special AKA's Free Nelson Mandela in the bedrooms of older friends. The track was my first taste of the wonderful rhythms of African music.
I'd watched Mandela's release in 1990 with my mum and dad from our living room in Glenrothes. I was wearing a baggy Free Nelson Mandela t-shirt - well, everything was baggy back then.
I had that same t-shirt on in George Square that October afternoon in 1993, under my cagoule.
Mandela wore a suit, which seemed out of place as he danced to the Sowetan pop song sung on stage by South African musician Mara Louw.
It was strange - he was a statesman, a political fighter, an inspirational figure known throughout the world. But with what became known as the Mandela Shuffle, he was one of us too.
I read again today the speech he made to us that day, a speech full of freedom and hope, and appreciation for the solidarity that Glasgow and other Scottish cities had shown to the anti-apartheid movement.
There were no camera-phones then, so no one was tweeting or trying to get a selfie. The thousands in the square simply listened to the words Mandela spoke with such pride and passion, and of course cheered till we were hoarse.
Afterwards, I went to a pub near George Square with some of the new mates I'd made during fresher's week. We talked about Mandela's political struggle, we talked with youthful enthusiasm about how the world could change.
He made us want to be better people.
I didn't keep up with those fellow-freshers, but I can guarantee that many of them and the thousands of others who stood with us will be remembering that momentous, wonderful rainy afternoon today.