Victorian Scotland's ordnance survey name books put online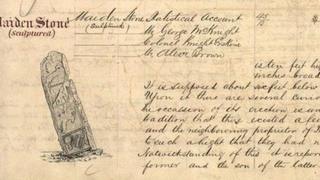 Historical books featuring every place name that appeared on Victorian maps of Scotland have been put online.
Almost 1,700 ordnance survey name books have been added to the ScotlandsPlaces website, where they can be searched by the public.
The books were created by field surveyors as they mapped Scotland from the 1840s until 1878.
They include histories, gazetteers, directories, and dictionaries, making them a snapshot of Victorian Scotland.
RCAHMS head of education Rebecca Bailey said: "The OS Name Books are an incredible source of information about Scotland - a nineteenth century equivalent of our modern internet search engines.
"These were the key reference works for anyone wanting to find out about the landscapes, buildings and places of Scotland.
"Now they have been brought into the 21st century by being digitised and made available on ScotlandsPlaces."
'Unique resource'
ScotlandsPlaces is a website that allows users to search across different national historical databases using geographic locations.
Culture secretary Fiona Hyslop said: "ScotlandsPlaces is a wonderful resource, and the welcome addition of these books makes it an even more exciting gateway for Scots and anyone with an interest in Scotland, to explore our nation's history and landscape."
Dr Simon Taylor, who teaches toponymics at the University of Glasgow, called the books "a treasure trove".
He said: "The books are a unique resource for understanding the evolution of Scotland's complex place-nomenclature, as well as nineteenth-century perceptions of place, language, environment, archaeology and culture.
"ScotlandsPlaces, by making them so widely and easily accessible, has opened up a treasure-trove of material for local and national historians, both lay and academic."
The digitisation of the books is being marked by a National Records of Scotland exhibition running from 6 December to 31 January 2014.