Balamory and High Road actress Mary Riggans dies at 78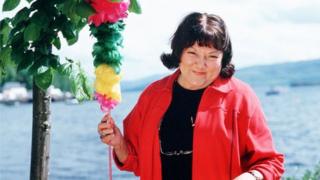 High Road and Balamory actress Mary Riggans has died at the age of 78.
Ms Riggans, who was best known for playing Effie Macinnes in the STV soap for almost 20 years, had suffered a stroke in 2012.
She became known to a new generation of viewers through her role as shopkeeper Suzie Sweet in the CBeebies show Balamory.
In High Road, which ran from 1980 until 2003, Ms Riggans played Glendarroch's much-loved gossip, Effie.
The actress began her acting career in 1946, when she did a voiceover at the age of 10, and she starred in TV, radio and theatre productions, including Taggart, Still Game and Rab C Nesbitt.
In 1993, Ms Riggans won a Sony award for her performance as Jean Armour in the radio play Till A' the Seas Run Dry.
A statement said Ms Riggans died peacefully on Monday, holding her daughter's hand.
BBC Scotland executive Yvonne Jennings, who worked as a producer on Balamory, paid tribute to the actress.
She said: "As Suzie Sweet in Balamory, Mary was well respected by those who worked with her and much loved by the CBeebies audience.
"Like Suzie, Mary was a kind and giving woman who took on the role of nurturing young talent.
"She was an extremely professional actress with impeccable comedy timing. She'll be sadly missed by many."
Julie Wilson Nimmo, who played Miss Hoolie in the children's show, added: "Shocked and saddened to hear about Mary's passing. We worked together for years, she was a brilliant actress and will be remembered fondly by the Balamory family."