Thousands of Scots in organised crime groups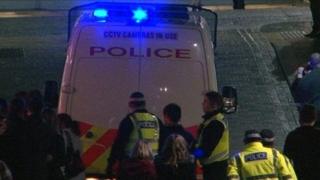 There are 3,400 people in Scotland involved in organised crime groups, the Scottish Police Authority (SPA) has been told.
Members of the authority heard the crime groups are organised in the same way as legitimate business.
It is estimated serious organised crime costs the Scottish economy £2bn a year.
But a report by Police Scotland said its impact goes far beyond monetary value.
Specialist officers have said much of the crime is associated with the drugs trade, including importation and supply.
But crime groups are also involved in fraud, money laundering and immigration crime.
In the report to the SPA, Police Scotland identified 227 groups categorised as being active in serious criminal activities.
A third (33.1%) have access to firearms and a quarter (26.1%) have been involved in acts of violence.
The report said organised crime groups (OCGs) are extremely sophisticated, with staff described as "nominals."
"They have 'chairpersons', security managers, accountants and logistics officers," it said.
"Like many other businesses, there are times when OCGs engage in takeovers in order to gain access to potentially viable markets.
"Some of these takeovers involve a number of OCGs coming together in a 'merger' in order to strengthen their footprint within a selected market.
"However, unfortunately sometimes these takeovers are hostile which can cause significant fear and intimidation within our communities."
Commonwealth Games
Police Scotland has warned the Commonwealth Games in Glasgow in 2014 may provide money-making opportunities for OCGs.
It urged public sector bodies to tighten procedures when awarding contracts.
Police Scotland said it believed its work in seizing drugs and disrupting organised crime businesses was ahead of targets.
It was set a target of seizing assets worth at least £47m through Proceeds of Crime legislation.
By the beginning of this month, seizures had totalled £70m, which was being reinvested in communities through a variety of sporting, cultural, educational and mentoring activities for young people in all 32 Scottish local authority areas.
Since April 2013, Police Scotland said it had arrested or reported 1,787 SOC "nominals," with an annual target set at 2,800.