High wind warning for Scotland upgraded by Met Office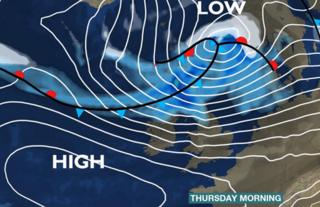 The Met Office has upgraded its warnings for high winds which have been forecast to hit much of the UK on Thursday morning.
The agency had issued several yellow "be aware" warning, but many have now been upgraded to amber "be prepared".
It predicted widespread gusts of 60 to 70mph, although these could be as high as 90mph in exposed parts of north and west Scotland.
The winds are forecast to ease down in most areas by Thursday afternoon.
The amber warning covers most parts of Scotland, as well as the north and east of England, Yorkshire and Humber, and the East Midlands.
Yellow warnings remain in place for Grampian, Northern Ireland, Wales, London and south east England and the West Midlands.
Senior Met Office advisor Graeme Forrester said: "The worst of the conditions are forecast in the Highlands and northern Scotland. However, parts of the central belt will also be affected by some very strong winds during Thursday morning's rush hour period."
The winds are likely to impact on ferry services and lead to speed restrictions on some bridges, and commuters and motorists have been urged to prepare for challenging conditions in the morning rush hour.
Scotrail announced on Wednesday evening that at least 20 routes would have no service running on Thursday.
On remaining routes, no trains will run until 07:00. All lines will be subject to speed restrictions.
David Dickson, Network Rail area director for the west of Scotland, said: "The extreme nature of the conditions, and the potential impact they can have on our infrastructure, means that speed restrictions and other measures are necessary in the interests of safety.
"We are working closely with the train operators and other industry partners to do everything we can to reduce disruption, while also operating a safe network for passengers."
'Coastal flooding'
Train operator East Coast said it would run a revised timetable throughout Thursday as large parts of the route were expected to be affected by heavy wind and rain.
East Coast services from Aberdeen, Inverness and Glasgow on Thursday will begin from Edinburgh. Northbound services from Edinburgh will be subject to disruption.
The Met Office said there was also the potential for "significant coastal flooding" in parts of southeast Scotland, as well as north Wales and northwest England.
The Scottish Environment Protection Agency has put a number of flood warnings in place for central Scotland, Fife, Skye and Lochaber and Edinburgh and the Lothians.
Less serious flood alerts were also in place in several other parts of the country, including Argyll and Bute, Caithness and Sutherland, Orkney, the Scottish Borders and the Western Isles.
Western Isles Council said all schools in Uist and Barra would be closed on Thursday, with forecasters predicting high winds which will coincide with exceptionally high tides and a storm surge.
And all workers on Buchan Alpha oil platform, 83 miles off the coast of Aberdeen, have returned to shore because of the weather forecast.
Forecasters said snow showers were likely to affect the north of Scotland on Thursday, initially across Shetland but then quickly extending south to the mainland through the morning.
These wintry showers will be most frequent across the Northern Isles, the north Highlands and northern Aberdeenshire, the Met Office said, although could extend into more central areas of the country.
Accumulations of 2 to 5cm are possible in places on low ground, with 10 to 20cm possible on higher ground.
In addition, the strong northerly winds will lead to some drifting, with blizzard conditions possible at times over high ground.
Icy conditions may also develop on some roads on Thursday night and Friday morning, and the public was warned to be aware of the potential for disruption, particularly to travel.
Higher pressure is expected return from the west during Friday and cause the snow showers to ease, before milder conditions return into the weekend.
The Scottish government said its Multi Agency Response Team would be operational for the duration of the alerts.
Martin Thomson, the winter resilience manager for government agency Transport Scotland, said: "I would urge the travelling public to consider the conditions before they set-off on their journeys.
"They should listen to radio reports, visit the Traffic Scotland website or twitter feed, and carefully consider police advice."