Ecurie Ecosse motor racing team cars sold for £8.8m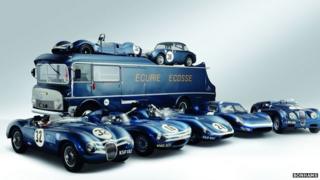 A collection of cars used by the legendary Scottish Ecurie Ecosse motor racing team has sold for a total of £8.8m at auction.
The star of the sale at Bonhams in London was a 1952 Jaguar C-Type, which sold for £2.9m.
The Ecurie Ecosse team, which was started in Edinburgh in 1951, counted former Formula 1 world champion Sir Jackie Stewart among its drivers.
Its achievements included consecutive wins at the Le Mans 24-hour race.
Highlights of the auction on Sunday included the sale of a 1956 Jaguar "Shortnose" D-Type for £2.6m
Both Jaguars went to a buyer in the United States.
The team's three-car transporter - a 1960 Commer TS3 - was sold to the same US buyer for £1.8m.
The collection of vehicles had been expected to fetch £5m at auction.
Team history
The Ecurie Ecosse team was started by accountant David Murray, who ran the team from a garage in an Edinburgh mews. His own racing career had ended after a crash in Germany and he was looking for a new challenge.
Ecurie Ecosse's first season was 1952. It started with three Jaguar cars, each owned by its driver. They were painted flag metallic blue, along with the Saltire badge that made them instantly and widely recognised.
The team name was in French because, at the time, it was the language of motor racing.
In 10 seasons, Ecurie Ecosse scored some 68 victories, including at Le Mans.
The original team was wound up in the early 1970s but the team was reformed in the 1980s under new direction and Ecurie Ecosse still races.