Falkirk row whistleblower fails to make MP shortlist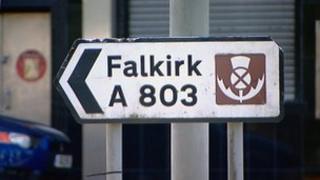 The Labour councillor who blew the whistle on claims of vote-rigging to select a general election candidate in Falkirk has failed to make the final shortlist to be the town's next MP.
Linda Gow, the former leader of Falkirk Council, told the BBC's Newsnight programme she was "disappointed".
Three candidates - Pam Duncan, Monica Lennon and Karen Whitefield - will contest the Labour nomination.
An internal inquiry cleared union Unite of any wrongdoing over the claims.
It came after key witnesses withdrew their allegations.
Newsnight approached Ms Gow on Wednesday evening at her council ward surgery, held inside a supermarket in Falkirk.
Separately, an ally of hers said she was "stunned, flabbergasted and her world had fallen in".
The Falkirk seat is held Eric Joyce, who resigned from the Labour Party after being convicted of assault. He has continued to stand as an independent.
Ms Gow had originally written to the Scottish Labour Party to raise concerns about the process of selecting a new general election candidate and the involvement of the trade union Unite.
Unite was accused of coercing its members to join the Falkirk Labour Party or signing them up without their knowledge, to ensure the union's favoured candidate, Karie Murphy, was selected as a general election candidate.
'Thorough process'
Ms Gow had been publicly critical of the party's failure to publish an internal report into what went on in the constituency.
The Labour leadership has insisted the report into the inquiry it carried out will not be published because people contributed to it on the condition of their confidences being respected.
In a statement, Labour said "all those who applied" to the party's general election candidate "went through a fair and thorough process and three high-quality candidates were selected unanimously".
Sources have emphasised it was a unanimous decision.
The BBC understands that two members of the party's National Executive Committee, two members of its Scottish Executive Committee and one local party official conducted the interviews.
The Falkirk Labour Party had been put into what the national party called "special measures" after the row which meant the drawing up of a shortlist of candidates was removed from it.
The winning candidate will be selected by local party members on 8 December.
A Scottish Labour spokesman said: "We are delighted that the Labour members of Falkirk will have three very talented women to pick from when they come together to select the candidate they want to represent their community."