'No fee' lawyers win compensation after 24-year fight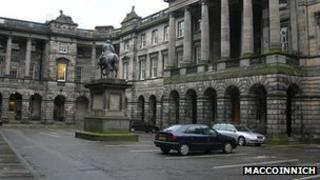 A woman who was sexually and physically abused as a child has received compensation 24 years after first applying for it.
The woman - known only as L - received a six-figure settlement from the Criminal Injuries Compensation Authority.
The case was taken up by senior lawyers acting without a fee after it appeared it might be lost altogether.
One praised the woman's mother for "tenaciously" keeping the claim alive.
The 35-year-old woman was taken into care as a toddler after witnessing a murder in her family.
It later emerged she had been physically, emotionally and sexually abused, and has a range of severe mental health problems.
She is cared for full-time by her local authority.
Specialist
Although her mother raised a claim for criminal injuries compensation in 1989 when her daughter was 11, the case was never brought to a conclusion for a variety of reasons.
When L became an adult, there was no-one to represent her until last year when solicitor Adrian Ward, a specialist in adult incapacity and guardianship issues, was appointed to take over the case.
He received the papers - just before the case was due to be officially abandoned - and sought the assistance of the Faculty of Advocates' Free Legal Services Unit (FLSU) after encountering a number of difficult legal issues.
These included the question of whether abuse of a very young child could cause the sort of mental health problems suffered by L in later life.
Senior QC, Sir Crispin Agnew, who gave his services pro bono - without fee - said: "This is an emerging psychiatric area.
"Part of the problem along the way was that experts were unable to say that her mental health conditions were caused by the early abuse - the link was not there at the time and has only emerged in the literature in recent years."
He added: "The mother is to be commended for tenaciously keeping the claim alive despite many frustrations along the way."
Medical experts also provided their services for free in the case, which finally ended when the legal team were able to negotiate a six-figure settlement with CICA.
Sir Crispin said it would provide L with extra help and support, and buy her things which she would otherwise not have been able to afford.
Adrian Ward said: "Legal aid leaves gaps, sometimes affecting the most deserving cases.
"The Faculty of Advocates is to be commended for structuring its pro bono work through the FLSU."
The body has been in existence since at least 1532, and has a long history of providing advice and representation for those who cannot afford to go to law.
The FLSU takes on cases, referred to it by advice agencies, which are deemed to be deserving of help but for which no other form of support, such as legal aid, is available.