Drug treatments should focus on underlying causes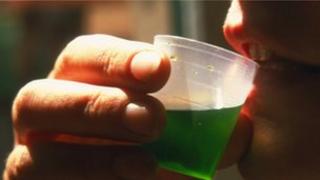 The way services for drug users operate should be changed to focus on the problems they have experienced in their lives, a report has said.
The report, commissioned by the Scottish Drugs Forum (SDF), said services should be able to address the underlying causes of addiction.
It said services for new drug injectors should focus less on heroin use.
Instead, for people whose use was not entrenched, it should look at the trauma and life difficulties they have.
It came as MSPs prepared to debate government policies at Holyrood.
Pathways to Recovery, compiled by researchers at the University of Hull and Glasgow Caledonian University, said: "There is a particular need for trauma-focused services for new injectors, because injecting drugs tends to be an indicator of underlying life problems and trauma, whether or not the injector sees it that way at the time."
Methadone alternatives
Drug services typically offer treatments so users can overcome their addiction.
Principal among these is the prescription of methadone - a heroin substitute - to help users stabilise their lives.
But the report said alternatives to methadone, including residential rehabilitation, should be made more widely available.
"It is clearly evident that progression to heroin use and injecting is a sign that an individual is 'troubled' and unable to cope with their life experiences appropriately," the report said.
"There is a real challenge to look at the accessibility of services and whether it is possible to intervene earlier to enable the addressing of underlying causes prior to a drug problem becoming entrenched."
But it acknowledged the importance of methadone treatment in helping those with entrenched drug problems to stabilise their chaotic lives.
The Scottish government published an independent expert review of drug treatments in August and is expected to respond to its recommendations during a debate in Holyrood on Thursday.