Obesity levels on increase in Scotland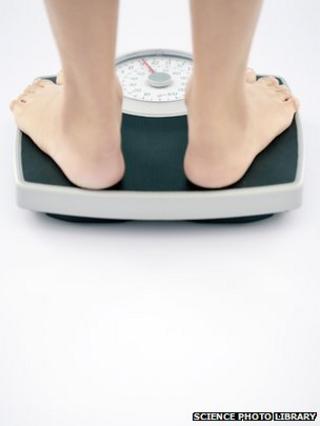 The number of children and adults in Scotland considered to be overweight continued to rise last year, according to new official figures.
Between 1995 and 2012, the proportion of people aged 16 to 64 who were overweight or obese increased from 52.4% to 61.9%.
The figures suggested 16.8% of children were at risk of obesity in 2012.
The proportion of children classed as overweight increased slightly, from 29.1% in 1998 to 30.6% last year.
The updated figures, released by Scotland's chief statistician, suggested that the prevalence of type 2 diabetes had continued to increase.
At the end of 2012 there were 258,570 people diagnosed with diabetes, 4.9% of the population. More than 88% of all cases were type 2.
The figures also show 62% of adults were taking guideline amounts of physical activity, but the numbers had not changed significantly since 2008.
Among children, 73% of boys and 68% of girls were doing recommended levels of physical activity.
Both adults and children were spending less of their free time sitting in front of TV screens and computer monitors, and the volume of soft drinks sold had decreased.
Tackling weight problems among children has been a major issue for some of Scotland's health boards.
In September, NHS Highland said rates of obese and overweight young children continued to be higher in its area than across Scotland as a whole.
Health workers warned a year ago that 25% of P1 pupils in the health board's area had a Body Mass Index above the level which was deemed to be healthy.
The report said the national average for children being classified as overweight or obese was 21%.
A spokesman for the Scottish government said it was committed to creating a healthier Scotland.
He added: "Obesity is complex issue linked to many lifestyle factors and requires action on many fronts. Small changes make a big difference.
"However, we have seen a reduction in the volume of soft drinks sales since 2010. Half of adults have a healthy diet or are trying to improve how they eat. The amount of time adults and children spend in front of screen for leisure has fallen. There are more visits to local leisure services and more people walking or cycling to work.
"We will continue working with producers and retailers to promote healthy food options, increasing opportunities for people to become more physically active, encouraging young people to adopt healthy habits and employers to offer healthy choices to staff."