Acquitted Celtic fan John Quigley describes relief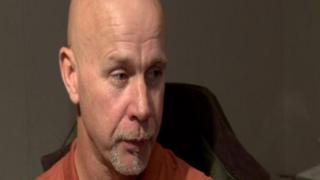 The Celtic fan acquitted last week of violence against Dutch police has described the "frightening" atmosphere in Amsterdam before his arrest.
John Quigley, 49, said he was "delighted" when a judge ruled there was not enough evidence to convict him.
But he said he would continue to lend his support to the five other fans who were found guilty.
All five - Damian Dobbin, Thomas Kennedy, Jozef Macpherson, Padraig Mullan and Andy Vance - were jailed.
Mullan, 28, and Dobbin, 23, were sentenced to two months, Kennedy, 30, and Vance, 21, to six weeks and Macpherson, 20, to a month.
They were all released pending an appeal, and are believed to have travelled home.
The men were arrested amid fighting between police and fans in the city's Dam Square before Celtic's Champions League match against Ajax on 6 November.
During the disorder, police made 44 arrests. Of the 28 Celtic supporters held, 22 were freed - 10 without charge and 12 after paying fines of as much as 500 euros (£420).
Speaking to BBC Scotland's Catriona Renton, Mr Quigley said the atmosphere in the square had been good natured at first.
He added: "The place was jumping. It was really friendly, fun and then all of a sudden it just turned. It was really frightening.
"It is hard to say what actually happened. An atmosphere came across the square. Before that the police were playing football with us, taking photographs, laughing, joking, and then you could have cut the atmosphere with a knife within minutes.
"I saw the riot police coming in, and the horses. When the horses charged, that was when we ran away. There was a video showing us running away and then the next minute I was arrested from behind, for nothing."
Mr Quigley said he was accused of hitting a police officer on the head, and then later of hitting the same officer in the mouth.
But he insisted: "I don't know why they arrested me because I was nowhere near the police officers".
He said: "Obviously I was delighted to be acquitted, but with the other boys being found guilty then it was bittersweet for me. I thought the six of us should have been acquitted.
"To be honest at the time I would rather have been found guilty along with the rest of the boys".
Undercover police
Mr Quigley said he had been treated well by the police officers who arrested him.
But he added: "Seeing the footage after coming home, obviously it was different for other people".
Mr Quigley said he wanted anyone with footage or eye witness accounts to come forward as he believed that would help the other fans with their appeals.
The judge said police had used force in dealing with the disorder, but it had not been excessive.
He said the five convicted Celtic fans should have left Dam Square when the trouble erupted, but instead they reacted by using violence.
During the hearing, the fans on trial said they believed they were being attacked by hooligans when they were arrested by undercover police officers.
One told the court the police acted in a heavy-handed way.
Dutch Police said eight undercover officers were injured during the violent clashes in the city centre.