Councils back Scottish anti-litter campaign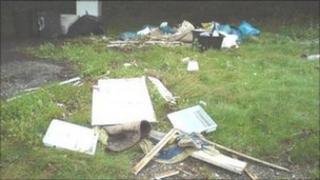 Scotland's local authorities have backed a national anti-litter campaign.
The Convention of Scottish Local Authorities (Cosla) and the Society of Local Authority Chief Executives and Senior Managers (Solace) have agreed the move.
The Clean Up Scotland campaign aims to make Scotland "the cleanest country in Europe".
The campaign is run by the independent charity Keep Scotland Beautiful, which said "huge numbers" have joined it.
Cosla spokesman, councillor Stephen Hagan, said: "The act of littering significantly impacts communities and local authorities through both the degradation of natural and urban spaces and the associated financial costs of dealing with this.
"Local authorities are committed to working with their communities to tackle litter and welcome Keep Scotland Beautiful's Clean Up Scotland Campaign.
"Bringing people, communities and organisations together to promote individual action on anti-littering is essential if we are to change behaviour and address litter."
Keep Scotland Beautiful chief executive Derek Robertson said: "In only a year since the launch of our campaign, we have seen huge numbers of people across Scotland stepping forward to help clean up, and taking the pledge to record their individual commitment to reduce litter."
The Scottish government has already supported the campaign with £250,000 funding through Zero Waste Scotland.
Environment Secretary Richard Lochhead said: "Scotland should take pride in its local communities and landscapes so it is only right that we work to keep this country as pristine as possible for generations to come.
"Over 250 million items of litter and more than 60,000 flytipping incidents are recorded in Scotland each year, highlighting the need for campaigns such as this."