Scottish schools allowed to delay new Higher exams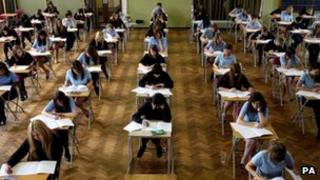 The Scottish government has indicated it may allow schools to delay the introduction of revamped Higher exams.
The first are due to take place in the spring of 2015.
However, ministers have now said they will respect any decisions by head teachers to let pupils do the old Highers instead.
The move has been welcomed by the EIS teaching union, which called for the change in light of "teachers' concerns" over the introduction of the new exams.
Fifth year students are due to study for new-look Highers next year.
The changes are said to be "evolutionary rather than revolutionary" - designed to help match up Highers with the new National qualifications which are replacing Standard Grades.
But there has been speculation some schools might seek to postpone the new Highers.
Concerns raised
One reason is concern over teachers' workload due to the ongoing implementation of the Curriculum for Excellence.
The Scottish government said it still expected the overwhelming majority of S5 students to do the new Highers next year.
But it also said that if a head teacher decided it would be in a student's best interests to do old Highers instead, it would respect that decision.
Minister for Learning Alasdair Allan said: "Across the country, from teachers to parents to directors of education, the national expectation remains that young people will sit the new highers in 2014-15.
"We believe that for most pupils this will be the best option representing a natural transition from National 5.
"However, as we have made clear, Curriculum for Excellence is founded on the professional judgement of teachers.
"Where a principal teacher, for example, considers that the best interests of a young person will be served by using the existing higher for a further year, then they should be able to work with their school, local authority and, critically, the parent body to agree this."
He added: "It is important that schools engage with parents to ensure they have confidence in arrangements for their children. The crucial point is that the interests of young people are at the heart of any decision."
'Sensible approach'
Both Glasgow and Edinburgh councils were already set to consider whether to allow schools to delay the new Highers.
The question will be how many schools across Scotland offer the new Higher straight away - or whether their introduction will effectively become phased over two years.
Scotland's largest teaching union, the EIS, said it had raised teachers' concerns in a recent letter to Education Secretary Mike Russell.
General secretary Larry Flanagan said: "It is welcome that, following these discussions, the cabinet secretary has listened to teachers' views and is now signalling that individual departments will have the option to choose which version of the Higher pupils should study towards next year.
"This is a sensible approach that will enable teachers to use their best judgement in deciding which option is in the best interests of their pupils.
"It is now imperative for all councils to follow this lead and support teachers in their decisions, rather than imposing authority-wide policies that may not take into account circumstances in each school or in every department."
The union also called for "the provision of adequate resources" to allow schools to prepare for the teaching of the new Higher courses.
Support package
Mr Flanagan added: "The introduction of the new Highers, so soon after the arrival of the Nationals, has placed significant additional strain on already stretched school resources.
"It is imperative that additional investment should be made to allow schools to update resources, similar to the support package that was provided to assist schools with resources for the introduction of the Nationals this year."
The Scottish Secondary Teachers' Association (SSTA) also welcomed the decision to give schools the option of delaying the roll out of the new Highers.
Alan McKenzie, acting general secretary, said: "There is no doubt that our position on the requirement for delay is vindicated and it would be reassuring to know that when our members report difficulties in the implementation of curricular reform that they are taken seriously and not dismissed and ignored.
"There is now a window of opportunity to ensure that this critical part of CfE is fit for purpose."
Scottish Labour said the exams system was in "disarray".
The party's education spokeswoman Kezia Dugdale said: "Parents and students must be wondering what is going on with the constant delays and changes to something so fundamentally important to their lives as school exams.
"If Mike Russell had worked with teachers and local authorities rather than railroading through these plans then we wouldn't be in this situation. He was repeatedly warned this would happen.
"We now find ourselves in the situation where children around the country are sitting different types of exam depending on where they live. The education of children has to come first."
'Acted sooner'
The Scottish Conservatives accused the government of confusing people on this "very important issue".
Young people spokeswoman Liz Smith said: "First the Scottish government said everything was on track, then we heard it was considering banning councils from introducing delays.
"Now the green light has been given for deferrals.
"This kind of confusion is extremely unhelpful for all concerned - be it parents, pupils or teaching staff."
Scottish Liberal Democrat education spokesman Liam McArthur said Mr Russell should be clear that "this is a delay and not a full-stop".
He added: "There will be questions as to whether or not the education secretary could have acted sooner.
"Mr Russell must also now take steps to ensure that support is provided where it is needed in order that the new Highers can be delivered successfully across Scotland as soon as possible."