Ross McEwan promises 'smarter solutions' for RBS customers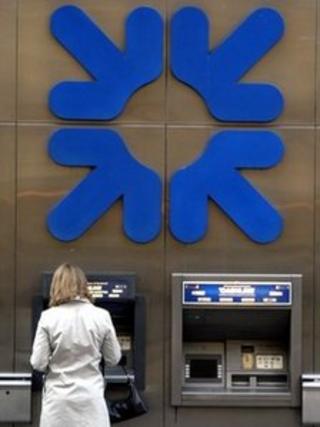 The new chief executive of RBS, Ross McEwan, has promised fundamental changes in the bank's customer service.
He said the move was in response to "a seismic shift" in the way people use services, with a 30% drop in the number of branch transactions since 2010.
Mr McEwan said new technology would allow the bank to offer "smarter solutions" to its customers.
He also unveiled a £30m investment in the next generation of cash machines, being designed with NCR in Dundee.
The announcement was made at the annual Business in the Parliament conference, which tackles major issues facing Scottish businesses.
Mr McEwan said that a review of the entire RBS business was under way and that major changes will be made, including the introduction of new technology and a modernisation of customer service.
He told the conference: "Since 2010, branch transactions are down almost 30%.
"The world is changing dramatically and as we consider the radical change we have to make, we need to prepare for a future based on being there for customers on their terms and not on our terms."
The bank will invest £30m in "new-generation cash machines", offering a broader range of everyday banking facilities, and 24-hour self-service centres will be set up in busy centres such as Waverley railway station in Edinburgh.
The announcement is being seen as part of Mr McEwan's plan to refocus the bank's attention to its customers rather than its own internal problems.
He told delegates: "You may not agree with all the steps that we decide to take but I hope you have some sense today that our intentions are the absolute right ones and that we are focused on our customers."
Mr McEwan added that, despite the proposed changes, he would not risk the "safety and soundness" that he said his predecessor, Stephen Hester, built since the economic crisis began in 2008.
He said: "RBS was saved by the taxpayer at an enormous expense. We must never put this country in that position ever again.
"It's pretty clear to me that we have a very special obligation to the people of this country."