Scottish universities win post-graduate cash for scientists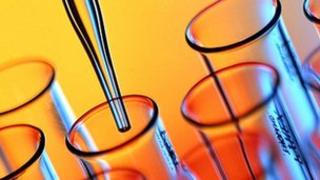 Scottish universities are among 24 institutions to set up training centres for science and engineering students.
More than 3,500 post graduates are to benefit from the £350m scheme announced by the UK government.
Of the 70 new "Centres for Doctoral Training" (CDTs) being set up, Heriot-Watt University will manage two.
Strathclyde University said it would lead three new centres and partner in two others, and Edinburgh University is to lead two and co-host three others.
Heriot-Watt was awarded funding for applied photonics and also for robotics and autonomous systems
Strathclyde's CDTs will be for: future power networks and smart grids, wind and marine energy systems, and medical devices and health technologies.
Edinburgh University will host a centre for data science and one in pervasive parallelism.
It will work in collaboration with Heriot-Watt on the robotics and autonomous systems CDT, and will operate the wind and marine energy systems centre in partnership with Strathclyde.
It will also co-host a CDT in soft matter and functional interfaces.
'Industry leaders'
The funding has been allocated by the Engineering and Physical Sciences Research Council (EPSRC).
EPSRC chairman Paul Golby said: "Centres for Doctoral Training have already proved to be a great success and the model is popular with students, business and industry.
"These new centres will give the country the highly-trained scientists and engineers it needs, and they will be equipped with skills to move on in their careers."
Alan Miller, deputy principal of research and knowledge transfer at Heriot-Watt University, said: "We are delighted to have received EPSRC funding for two CDTs in a very competitive environment.
"The research projects created by these post-graduate studentships will provide long-term benefits, not only to the students themselves but also to the research base of Scottish universities and the research needs of UK industry, keeping them at the cutting edge of technological developments."
University of Strathclyde Principal Prof Sir Jim McDonald said: "As a leading international technological institution, we are proud to play a critical role in shaping future developments in science, engineering and technology as well as accelerating UK economic growth through our high-quality doctoral students - the global industry leaders of tomorrow."