Scottish firearms offences fall by a third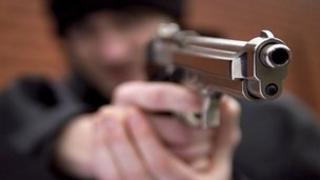 The number of firearms offences recorded in Scotland fell by a third in the past year, according to Scottish government statistics.
Police recorded a total of 365 offences in which a firearm was alleged to have been involved in 2012-13.
This was a drop of 32% from the 535 recorded in the previous year.
The number of offences in which a firearm was discharged and either killed or injured someone fell from 95 to 66.
Of these, only one was classed as a homicide, four fewer than the previous year.
There was also a big drop in the number of attempted murders involving a firearm, from 11 in 2011-12 to two in 2012-13.
Serious assaults involving a firearm fell from seven offences to six, and the number of common assaults from 99 to 71.
The number of recorded robberies in which a firearm was alleged to have been used more than halved, from 82 to 39.
Air weapons accounted for almost half (171) of all offences involving firearms last year, compared with 37% (197) in 2011-12.
The number of offences involving each of the different categories of firearms decreased with the exception of rifles, which increased from six to 16 offences.
However, there was a fall in the clear-up rate of firearms offences, from 71% in 2011-12 to 66% last year.
'Education and prevention'
Justice Secretary Kenny MacAskill welcomed the statistics, which he said showed a 71% drop since 2006/07 and were the lowest since current records began in 1980.
Mr MacAskill said: "Today's figures show excellent progress is being made to tackle the scourge of crime involving firearms in Scotland and I am delighted that the downward trend is continuing.
"There is no doubt that our police have played a significant part in this, getting guns off our streets through excellent detection, education and prevention work and continuing to make Scotland's communities safer places.
"It is important not to be complacent though; one offence involving a firearm is one too many and that is why the government, police, prosecutors and courts must continue to work together to eradicate gun crime.
"In particular, it is clear more must be done to tackle the number of crimes involving air weapons, which currently accounts for almost half of all offences."
The Scottish government is committed to introducing a system of air weapon licensing as part of its forthcoming Licensing Bill.